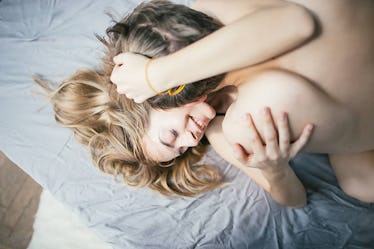 Here's What Happens When You Have Sex With A Yeast Infection, So Keep These Risks In Mind
You really don't know the meaning of the word bummer until you've had a yeast infection. They're the worst — just so uncomfortable! Thinking about it is upsetting my vagina. So, having sex while you have one might not be the most ideal thing in the world, but hey, let's be honest. Hormones are powerful and wily things, and sometimes the mood strikes at the most inconvenient times. If that sounds familiar, you've probably wondered: Can you have sex with a yeast infection? And, if so, what's the safest way to, ya know, get it on.
Well, that's actually a great question! And one you probably didn't learn the answer to in sex ed, so I'm so very glad you asked. But since this is a question for a medical professional, and I'm, well, not a medical professional, I reached out to obstetrician and gynecologist, Dr. Sheila Loanzon for her advice on how to handle this potentially awkward situation. First of all, I wanted to know if it's even safe to have sex with a yeast infection, and, if so, if there are any extra precautions you should take to protect both you and your partner. Here's what she had to say.