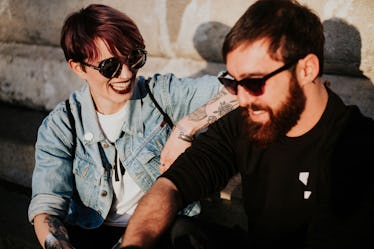 Being Friends With An Ex Right After A Breakup Is Hard, But Possible
One of my very best friends is an ex from high school, so I know for a fact that a friendship after a relationship is not only possible, but can be a lifelong and wonderful one. But you'll note I said one of my best friends is an ex. That's because, while becoming friends with an ex right after a breakup is possible, it doesn't happen that often. There are usually just too many confusing feelings at play to make that transition a quick and easy one. In our case, my ex and I took a short breather to let the dust settle a bit after our breakup. After a few weeks of being apart, we realized that we really liked one another and just wanted to be in each other's lives as just friends.
Ultimately, we learned that we were much better friends than romantic partners. I definitely don't regret the relationship, because the friendship that came after it has meant so much to me in the years that followed. Honestly, I wish all breakups were more like that one. Is that possible? Is there a way to turn all your former lovers into future besties? What about someone you just broke things off with. Can you make them your friend right away? To help answer these questions, I reached out to relationship experts to learn whether or not it's possible to go right from dating into a friendship, and, if so, how. Here's what they had to say.