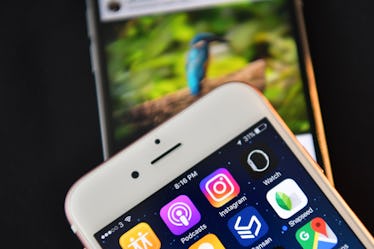 If You're Trying To Add Filters To Your Instagram Focus Pic, I Have Bad News
Carl Court/Getty Images News/Getty Images
Aside from rosé-flavored everything, 2018 has brought tons of innovations in technology. Instagram, for example, recently introduced Instagram Focus, which allows users to take and post professional-looking selfies to their Stories. And although the feature is fun, you might be wondering if you can add filters to Instagram Focus. The answer will probably surprise you.
Although Instagram Focus is beyond extraordinary, it is unfortunately missing something. I hate to be the one to tell you this, but Instagram actually doesn't let users add filters to their faces while they're in Instagram Focus. Gasp. Am I telling you that you can't look like a puppy while simultaneously having your face in focus? You bet I am. But please, don't shoot the messenger — I wish it wasn't true.
I am also extremely torn up about this. If you go to the Focus feature and attempt to tap the screen for face filters, all of the face filters will appear — but it'll revert to regular mode instead of staying in Instagram Focus. Trust me, I'm bummed — but in the words of Celine Dion, "my heart will go on."
On the bright side, you can still take incredibly focused pictures of yourself (with or without friends) for your Story, and it's kind of the dream.
If you haven't already used Instagram Focus, be prepared for the ultimate selfie experience. Once you start using the feature, your Instagram Story game will skyrocket by, like, 12 notches. Focus lets you take photos and videos that'll make your face look super crisp while slightly blurring the background. It's very classy, and you'll look like a freaking Christmas card (no ugly sweaters or elf hats required).
To do so, just open the Instagram app, open the camera, and slide your way to "Focus" (which is next to the "Superzoom" camera option). Then, you can tap the button for a photo or hold it down for a quality video. The photos and videos look amazing, and you don't need an expensive camera for it. Lights, camera, action, baby!
Once you've used Instagram Focus for any and all of your selfie-related needs, another new Instagram-related innovation is the @mention sticker. Up until the birth of the @mention sticker, there was no aesthetically pleasing way to tag friends in Stories. The only way to tag people was by typing friends' IG handles using the "text" feature, followed by an @ sign. It honestly looked so messy and cluttered, especially if you planned on including additional text. The @mention sticker, however, is easy to use, and it looks great. Just snap a photo or video via your Stories camera, and then open the Stickers tray. Hit the @mention sticker, and type in name of the person you want to tag. You can then rotate, scale, and place your @mention sticker wherever it looks best. You'll have a clean white box encircling the name of the account you tagged, and the text will be hella cute and colorful.
So I guess the bad news is that you aren't able to simultaneously use face filters and Instagram Focus while snapping Stories. Womp, womp. But, it isn't the end of the world. Using the Focus feature on its own is still wildly entertaining, and I literally cannot stop taking photos of myself. If you end up deciding to do a photo shoot with one of your BFFs, make sure to tag them using the @mention sticker. It's très chic, and it won't totally kill the vibe of your gorgeous photo. I'm ready for my close-up, and I hope you are too.