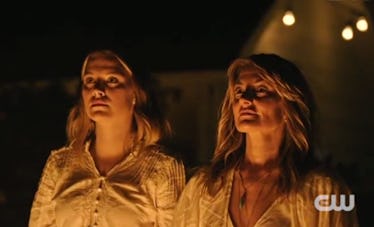 The 'Riverdale' Season 3 Premiere Went Full Supernatural, But It Might Not Be What It Seems
CW
Season 3 of Riverdale has only just begun, and yet it has already completely changed the game about everything we thought we know about the show. In the final moments of the episode, it felt like the whole series had been flipped on its head, with fans wondering what is even real anymore. Are there actually monsters roaming the town? Is magic real? Can Polly's twins really fly on Riverdale? Let's try to make some sense of all the strange, seemingly supernatural events that went down in the season premiere.
Spoiler alert: This post will go over plot details throughout Riverdale's Season 3 premiere episode, "Labor Day." The new episode was mostly grounded in the events of last season, with the bulk of the focus on Archie's murder trial after Hiram Lodge framed him, but the last few minutes of the premiere revealed that Season 3 will move away from the mafia-tinged crime drama elements of Season 2 and towards a creepy, occult style of mystery.
And with Riverdale's witchy spinoff series Chilling Adventures of Sabrina about to premiere as well, fans are probably wondering whether all of this occult stuff is really supernatural or not. I mean, Jughead did find Dilton Doiley and Ben seemingly dead with strange carvings in their back around some bone-filled shrine in the woods, and Betty saw her niece and nephew levitate over a fire. It all seems pretty supernatural... but Lili Reinhart shut down all these questions about magic in Riverdale before the season premiered.
In an interview on BUILD Series, a fan asked point-blank if this season would include supernatural elements, and Reinhart responded with an explicit no. She said that she had to ask showrunner Robert Aguirre-Sacasa whether there was magic involved in the series after reading the script for the Season 3 premiere, and he confirmed that there is nothing like that. Check out Reinhart's full response at around the 28 minute mark of this video:
Ummm, okay... so if there isn't any magic or supernatural elements in Riverdale, then what the hell is going on with this Gargoyle King monster, and how did Juniper and Dagwood float over that fire? There must be some explanations coming, but for now, we are just left scratching our heads.
Maybe Betty hallucinated seeing Juniper and Dagwood flying somehow. After all, we did find out that she has been downing Adderall nonstop, even inventing a fake therapist so that she could forge a prescription, and that pill-popping is likely what caused her seizure at the end of the episode. Could it also have caused her to see things?
Even if it is not witchcraft or demonology or some other kind of magic, there is definitely something strange going on with the Farm. After she became a full-fledged member in Season 2, Polly convinced her mom to enlist as a member as well, and the Season 3 premiere showed that Alice is deeply under the spell of the Farm's leader, Edgar Evernever. We have yet to actually meet Edgar, but he is sure to be a major character this season once he appears.
Riverdale Season 3 airs Wednesday nights on the CW.