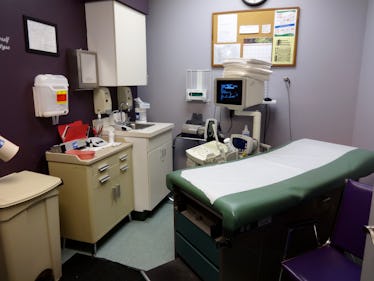 This Law In 34 States Restricts Abortion Access Without Improving The Quality Of Care
Thirty-four states around the country require abortions be performed only by a physician, per the Guttmacher Institute. Yet these laws run contrary to the science-backed conclusion that many clinicians — including certified nurse-midwives, nurse practitioners, and physician assistants — have the skills and training necessary to provide abortion care.. While the laws in those 34 states require abortions to be performed by physicians, science has shown that other trained individuals are perfectly capable of providing the care.
Not only are "physician-only" laws — the ones that only allow doctors to provide abortion care — not supported by science, but, the National Academies of Sciences, Engineering, and Medicine (NASEM) explains in a new report published in March, prohibiting clinicians from performing abortion care can create delays for patients seeking an abortion creates barriers to accessing abortion care, and hinders the effectiveness of care. Importantly, the report also points out that the risk of complications, which is incredibly low for all forms of abortion, is no higher when the procedure is performed by another trained clinician, such as a certified nurse-midwife, nurse practitioner, or a physician assistant.
In an effort to overturn mandates that only physicians provide abortion care, the ACLU, the Center for Reproductive Rights, and Planned Parenthood have filed lawsuits in Maine and Montana against these restrictions in the last year. They argue that nurse practitioners and certified nurse-midwives can provide abortion care with the same efficacy as physicians.
As a public health nurse and research scientist, I know this to be true. Over the years, I've provided patients a range of reproductive health services, whether it's birthing a baby, helping them manage a miscarriage, or providing abortion care.
I also train hundreds of clinicians every year on the vast spectrum of sexual and reproductive health services, including abortion. Unfortunately, despite spending years in hands-on training for reproductive health care, including abortion, many clinicians aren't allowed to provide abortion care because of medically unnecessary state laws.
These laws have a direct impact on a patient's ability to access the care she (or he) needs.
Imagine a pregnant woman who has been relying on a certified nurse-midwife for prenatal care. She receives devastating news about the viability of her pregnancy and makes the decision to have an abortion. She is then told that only a physician is authorized to perform the procedure in her state — so she can't receive care from her trusted nurse-midwife who has the skills and experience to provide abortion care. She is forced to find another doctor, potentially at another facility, and sometimes even in a different state, to perform her abortion. This is not an effective way to provide patient-centered, quality health care.
These laws are, however, very effective at cutting off access to abortion care for women across the country. And, they effectively worsen health disparities that particularly harm communities of color, rural communities, and medically underserved populations.
In Maine, there are only three health centers that perform abortions. That number would increase to 18 if advanced practice clinicians were allowed to provide abortion care. In Montana, according to 2014 data, 93 percent of counties had no clinics that provided abortion care, and 55 percent of Montana women lived in those counties. Lack of access to safe and legal abortion care is not a problem limited to a few states: nationally, 90 percent of counties, in which 39 percent of American women of reproductive age live, lack abortion clinics, according to a 2014 study in Perspectives on Sexual and Reproductive Health.
For these reasons, top health care organizations, including the American College of Obstetricians and Gynecologists (ACOG) and the American Public Health Association, agree that many clinicians — including certified nurse-midwives, nurse practitioners, and physician assistants — have the competency and experience to provide abortion care. "In addition to physicians, advanced practice clinicians, such as nurse-midwives, physician assistants, and nurse practitioners, possess the clinical and counseling skills necessary to provide first-trimester [medication] abortion," ACOG says in their guidelines on medication abortion. ACOG also said that for in-office procedures, "appropriately trained and credentialed advanced practice clinicians" can also provide care.
Laws that limit trained clinicians from providing care, such as the ones in Maine and Montana and 32 other states, are medically unnecessary and have no basis in science. They are simply designed by politicians to deny women access to abortion care. Certified nurse-midwives, nurse practitioners, and physician assistants have the skills and training to provide safe and legal abortions and should not be prohibited from providing critical health care services to patients.
Dr. Monica R. McLemore is a Clinician-Scientist at Advancing New Standards in Reproductive Health (ANSIRH) and Assistant Professor at the University of California, San Francisco School of Nursing