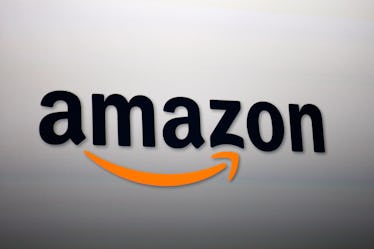 If You Saved All Your Old Amazon Gift Cards For Prime Day, You're In Luck
David McNew/Getty Images News/Getty Images
Hunting for deals is one of those things I wish I were good at, but sadly I'm not. I'm all about the little-to-no-effort game, and that sort of personal preference isn't great for bargain shopping, except the one day a year where I can find steals from the comfort of my bed: Amazon Prime Day. Of course the Prime Day deals are enough to quench my thirst for bargain shopping, but if you're also into the little-effort big-reward deal, you might also be wondering, can I use a gift card on Amazon Prime Day 2018 and really double down? You're lucky, because this queen of laziness is here to help you out.
Still hoarding all those Amazon gift cards you got for graduation? Well, then you're very smart because you can totally use them on July 16, aka Amazon Prime Day 2018. Amazon makes no mention of not being able to pay with gift cards on Prime Day, and Coupon savant The Krazy Coupon Lady even mentions gift cards on her list of tips and tricks for Prime Day 2018. There ya have it: the cards are a go.
Do you have your cards handy? Good, and I suggest you start getting ready now because there are already deals popping up. Even though Amazon Prime Day officially starts on Monday, July 16 at 3 p.m. ET and lasts 24 hours, you can start watching deals on July 15. According to Amazon, if you download the Amazon app on your phone or device, you can click "Today's Deals," then hit "Upcoming," find a deal you like, and hit "Watch This Deal." You'll be notified as soon as it starts. Also in the app, you can get a special "sneak peek" into Prime Day deals: just type "sneak peek" into the search bar for an on-the-DL look at hot deals. Well, I guess it's not on the DL anymore.
Now that we've sorted the important business of how to get the most out of your Amazon shopping this Prime Day, allow me to back it up with a little history lesson (I'm full service). In case you're not aware, Prime Day originally started as a 20th Anniversary celebration for Amazon in 2015. But the one-day sale event has become an annual retail holiday for the company. Since that day, Amazon has kept improving on the shopping holiday and now you can select from an offering of about a million deals worldwide, according to Business Insider.
This year's Prime Day is sure to offer hot deals on all Amazon devices and services, like their Echo devices, tablets, and FireTV. According to Business Insider, there will also be some major deals on non-Amazon electronics like cameras, televisions, and even beauty tools.
But the most important piece of information in all this is that you have to be an Amazon Prime member. If for some reason you're not a Prime member then I suggest you go sign up now.
Want some more great news? There's zero-commitment. You can literally go sign up on the Amazon Prime sign-up page and you'll get a free 30-day trial. Yes, I said free. (After the trial, you'll pay $12.99 per month.) But if for some reason you're not dazzled by the elite feeling of being in on the Amazon inner circle, you can cancel before your trial is up and you won't be charged a penny. This is perfect if you're just looking to take Prime membership for a spin, or use it for what they've dubbed "Black Friday in July." But the bottom line is that you have to sign up before July 16 to get those Amazon Prime Day deals, deals, deals.
So happy shopping, and I'll see you there! Well, actually I won't because I will be happily in bed alternating between La Croix and espresso, seeing how many items I can score before I run out of cash. Good luck, everyone!