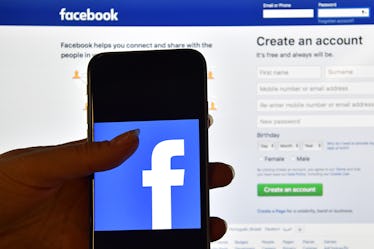 Facebook Is Going To Let You Un-Send Messages, & It's Everything I Wanted At 3 A.M.
Carl Court/Getty Images News/Getty Images
We've all experienced the mortifying moment when you wake up after a big night out, only to discover that you've sent some unwanted, um, intoxicated messages out. Or maybe you just sent a message that you've realized you shouldn't have and needed a quick fix to take it back. Whatever your situation is, I'm sure that you've wished that there was some way to retract unwanted messages. And now you might be able to — on Facebook at least. So can you unsend Facebook messages now?
Luckily for all of us, the popular social media platform will soon release a new feature that will allow you to unsend a message that you regretted sending in the first place, according to TechCrunch. Oh happy day! The website reported on April 6 that the unsend feature will be available to all users of the company's Messenger feature in the next coming months. No official release date has been announced yet, and it might take some time to get the software right. But the change is coming, so get excited!
Facebook said in a statement to The Verge that, "We have discussed this feature several time. We will now be making a broader delete message feature available. This may take some time." Elite Daily reached out to Facebook to get more details about the unsend feature rollout, but did not hear back at the time of publication.
So what took Facebook so long to introduce the "unsend" feature? While this is great news for users worldwide, the series of events that led to this reveal is kind of messy, and pretty questionable.
TechCrunch reported on April 5 that Facebook CEO and co-founder Mark Zuckerberg and other high-ranking employees of the company have the ability to retract sent messages in their Facebook messenger accounts. The company claimed that the feature was put in place for security reasons, but for whatever reason, Facebook never disclosed this to its users.
Facebook said in a statement to TechCrunch following the report that, "After Sony Pictures' emails were hacked in 2014 we made a number of changes to protect our executives' communications. These included limiting the retention period for Mark's messages in Messenger."
It's not clear why this feature hasn't been available to all users, or why the company felt it needed to keep this feature under wraps. Facebook apologized for this blunder in a statement to The Verge where it said,
And until this feature is ready, we will no longer be deleting any executives' messages. We should have done this sooner — and we're sorry that we did not.
Facebook has already come under fire for privacy concerns over the past couple of weeks, and this latest report is not adding to the company's rapport with users. In an interview with Vox Editor-in-Chief Ezra Klein published April 2, Zuckerberg indicated that the company monitors users' private messages. He detailed an example where certain extremist messages coming out of Myanmar were "detected," which definitely raised some eyebrows. If Facebook can detect messages, how much privacy do users actually have?
A Messenger spokesperson told Elite Daily at the time that messages were flagged for harmful content by an automated system. The statement says,
Keeping your messages private is the priority for us, we protect the community with automated systems that detect things like known images of child exploitation and malware. This is not done by humans.
Facebook also has been criticized for the role the platform played in the 2016 election. Russian-bought ads on Facebook reportedly reached more than half of the U.S. voting population, according to CNN. There's no way of ultimately telling how much those ads influenced the actual election results, but it's pretty astonishing that these ads somehow went undetected by Facebook.
Zuckerberg is scheduled to testify before Congress on Capitol Hill for two days on April 10 and 11 where he'll testify on data privacy issues. The CEO will participate in two hearings, one joint session before the Senate Judiciary Committee and the Senate Commerce Committee, and another before the House Commerce Committee.
This widespread public scrutiny of the company could mean major changes for Facebook are on the way. What exactly they will be is unclear, but we do know that we'll at least have the capacity to unsend an unwanted message or two (or 10). That, at least, is something to look forward to.