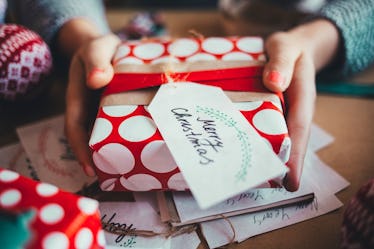 What You Need To Know About Bringing Wrapped Presents On Your Flight This Holiday
They say it's the most wonderful time of the year... until you get to the airport. Traveling around the holidays feels like a Clark Griswold type of mayhem, especially when you have to lug all of your Christmas presents through the terminal. Many wonder, "Can I bring wrapped gifts to the airport?" so it's time to settle the security mind games once and for all.
Let's say you find the perfect toy for your niece that she's been dying to have. You strategically place her new doll in snowmen wrapping paper, topped with bows and a name tag to really up the ante. But, of course, you decide to do this all before you board the plane. Now what?
Despite common misconception, you can bring that wrapped Elsa doll to the airport without worrying that the TSA will rip through the gift and leave your bow squished on the floor. A TSA spokesperson told Travel & Leisure that unwrapped presents are not a requirement, despite what travelers might have been led to believe. Gifts are treated like any other packages, and they're still required to pass through screening machines, though wrapping paper isn't believed to be an issue. However, should your package look suspicious after it's scanned, that's when you'll have to worry about your delicately wrapped gift.
Still feeling a little hesitant? You can always ship your gifts to the appropriate recipient or wrap once you get back home. Personally, I'd be more concerned about the wear and tear my gifts would experience than anything else. Presentation is everything, after all, and Frozen memorabilia needs to make a statement under the tree. You pull out all the stops when you have little ones in the fam.
Whether or not you're bringing wrapped presents on your flight is but one of the issues you experience while trekking back to your hometown. Holiday travel is never easy, but there are ways to make the experience less painful. Take a deep breath (and a sip of eggnog if you must) and let's begin.
First Things First: Figure Out Your Travel Accommodations
Try to plan the least expensive flights home. According to a report by Bloomberg, the best days of the week to score a deal are Monday and Thursday. Traveling on Christmas Eve and Christmas Day is also less expensive, if you're OK with being on the plane for a chunk of the big day.
Figure Out What To Do With The Goods
A checked bag fee isn't required for the first two suitcases you bring on your domestic Southwest flight, which makes a trip all the more tempting. However, if you need to wheel a third suitcase into the airport, that will cost you $75 when traveling with the airline.
The good news is there are similar perks. Cape Air also offers a free checked bag on domestic flights. However, the second and third piece of checked luggage will cost $40 each. If you cannot manage to score a deal with Southwest or Cape Air, don't sweat it. JetBlue asks $25 for the first checked bag and $35 for the second on domestic flights, both totally doable. Virgin America is another line that keeps wallets happy. When flying domestically, all three of passengers' suitcases cost $25 each.
Keep Track Of The Lines
Waiting is part of the game when you're flying, but you can log on to apps.tsa.dhs.gov/mytsa to check and see how the lines are looking near you.
Stay In The Know
Budget your time and expect to arrive a bit more than two hours ahead of time, considering everyone and their grandmother (literally) will be heading back to their families. Make sure that you're up-to-date with the traffic and weather situation, too.
It might seem hectic at first, but you'll get there. We'll give you a pass for an extra cup of eggnog after enduring the airport. Happy holidays!
Check out the entire Gen Why series and other videos on Facebook and the Bustle app across Apple TV, Roku, and Amazon Fire TV.