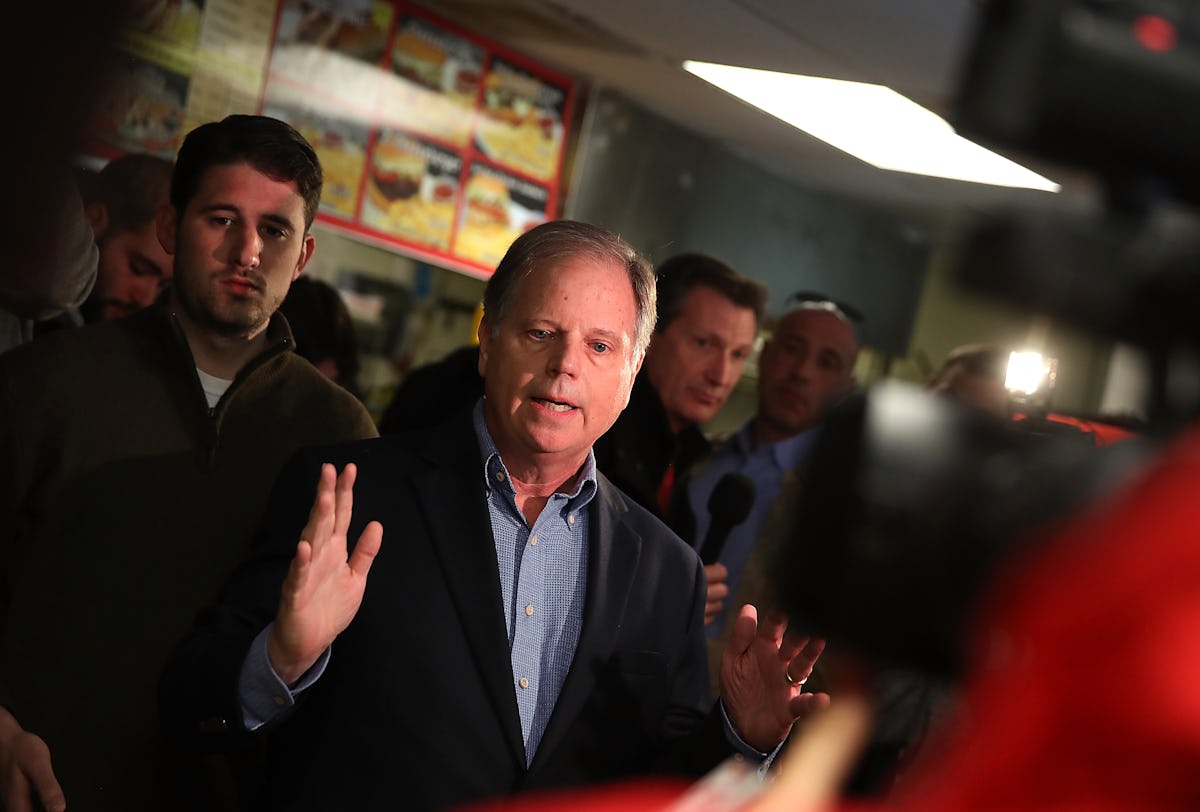 The Alabama Senate Race Is Looking Super Close & We're All Stressing
Justin Sullivan/Getty Images News/Getty Images
Alabama voters head to the polls in a special election this week to determine who will fill the vacant seat left by Attorney General Jeff Sessions. With polls showing mixed signals, the question is, can Doug Jones win in Alabama? All eyes are on the race between the Democrat, Jones, and Republican candidate Roy Moore. The election is closely watched by voters nationwide as a potential pulse check of voter attitudes towards not just the candidates, but their parties.
A Fox News poll released Monday, Dec. 11 had the Democratic candidate, Jones, up 10 percentage points over the Republican candidate Moore. The poll showed that 1 in 10 voters were still undecided or supporting another candidate, which Fox says could make or break Tuesday's results. But even so, Moore was polling about 40 percent while Jones had 50. Fox says Jones' lead comes from non-white voters, women, and younger voters. More Democrats than Republicans said they are "extremely interested" in the race, though total interested voters overall still represent just 46 percent of Alabama voters.
The Hill reports another poll last month also put Jones in the lead. But these predictions stand in contrast to another sample by Emerson, per RealClearPolitics, showed Moore up by 9. Averaging several polls from the last few weeks put Moore up by 2.5 percentage points total. But as Vox points out, RealClearPolitics was also incorrect in their prediction for Ralph Northam, who ended up winning the Virginia election. And modeling potential votes means not just asking registered voters who they're planning to vote for, but what the likelihood they'll also show up at the polls.
Clearly, some were confused by the mixed messages the polls were showing.
The race has bigger implications for the political landscape.
President Donald Trump won the state last year in the election by 28 percentage points, according to the Times, and the state is generally regarded as heavily red. But the ultra-conservative Moore was a hard pill to swallow for some Republicans, a reluctance that turned into full-blown rejection for many when the Washington Post broke the news last month that he was accused of sexually pursuing minors. (Moore has denied these claims.) Moore is now seen as a litmus test for where voters will draw the line to follow the political beliefs.
The race is also seen as a touchstone for where voter attitudes lie in regards to Trump and the Republican party at large. A loss for the GOP in Alabama would be a huge deal. The president has finally endorsed Moore (only about a week before the election, per the Times), though he initially was vying for Moore's primary opponent Luther Strange. With the Republican National Committee also funding him, Moore's win could give a clue as to how much Trump's endorsement means, and how much sway the Republican party has.
Both sides are pushing for a win right up to the last minute.
Progressive groups nationwide are engaged in a petal-to-the-metal push ahead of Tuesday's vote, The New York Times reports.
It doesn't hurt that Jones has star power bolstering his cause (although that didn't seem to help Hillary Clinton in 2016). Obama recorded a get-out-the-vote tape for the Democratic candidate, according to the Times. And he's not the only public figure publicizing his support. He joins a growing group of celebrities including Mark Ruffalo, Patton Oswalt, and Alyssa Milano in endorsing Jones. Debra Messing also shared a video explaining why she supports him.
Jones has a groundswell of support from progressives, as expected, but may also get a boost from Republicans who refuse to support Moore. On Sunday, Dec. 10, Alabama's only current senator, Richard Shelby, told CNN he didn't (and couldn't) vote for Moore, adding that "the state of Alabama deserves better." Shelby wrote in another Republican for the previous race.
Only time will tell whether voters turn up in the numbers needed to secure a groundbreaking win for Jones.