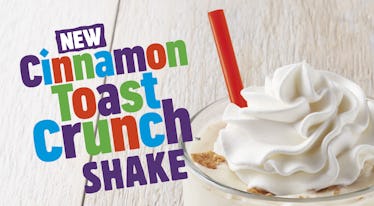 Burger King's New Cinnamon Toast Crunch Milkshake Will Make You Feel So Nostalgic
Burger King
Cereal is such an easy meal to "make" (if you count adding milk to a bowl as making something), and with super tasty options like Cinnamon Toast Crunch available, it's a heavenly meal. That's why Burger King's idea to turn our childhood favorites into milkshakes is pure genius. And it has a brand new shake, which is available for a limited time starting Thursday, Oct. 5. My friends, say hello to Burger King's Cinnamon Toast Crunch Milkshake.
BK's new ode to sugary breakfast cereal has all the fixings you'd expect from such a wonderful creation. According to the fast food chain's website, the shake is hand-spun with real Cinnamon Toast Crunch pieces, vanilla soft serve, and a sweet cinnamon cereal-flavored syrup. It's topped with a generous helping of whipped cream (as every milkshake should be, in my humble opinion).
In a press release announcing the exciting addition to the restaurant's dessert menu, Alex Macedo, Burger King's North American president, explained why the brand keeps coming up with such nostalgic menu items. The answer? Customers want them, of course. Macedo said in a statement,
Our cereal shake mashups have been a big hit with our guests, and we want to continue providing tasty, exciting shake options for them. Hand spun shakes are an iconic part of the Burger King brand history, and we know our guests will love this sweet menu addition.
The home of the Whopper is calling the Cinnamon Toast Crunch Milkshake a "cup of cinnamon swirl bliss," and — just based off the ingredients — I have to agree. You cannot go wrong with a drinkable bowl of (arguably) the best cinnamon cereal out there.
Warning: This glorious cup of cereal magic will only be available for a limited time. No word on when exactly it'll depart BK's full-time menu. However, given its very #affordable $2.99 price point, go ahead and treat yo' self until it's gone forever!
Over on Twitter, Burger King is making sure everyone knows now's the time to order the cinnamon treat.
Whoever runs BK's social media channels has been replying to fans who requested the shake flavor over the summer, letting them know that their wish has come true.
Here are some of the like-worthy gems:
"Dear Suzie, we've got two words for you: It's here."
"The wait is over. We've got something for you."
"You know what? You got it. The Cinnamon Toast Crunch Shake is here."
"Consider it checked off the to-do list. It's here and waiting for you."
Obviously we have to thank Burger King for coming through with yet another tasty nostalgic cereal-inspired shake. But just like its magical Lucky Charms counterpart, it's pretty easy to whip up at home if you're trying to avoid a trip to the drive-thru.
If you want to DIY your very own Cinnamon Toast Crunch Milkshake, here's how.
First thing's first, put on your chef's hat and grab your blender. For this loose recipe, you'll need: Cinnamon Toast Crunch (duh), vanilla ice cream, and whipped cream.
Combine your ingredients (to your liking) in a blender and blend until you're left with a smooth and creamy drink. For an added crunch, fold in some more cereal. Once you've poured your mixture into your favorite tall glass, top it off with all the whipped cream your heart desires and — if you're feeling fancy — a dash of ground cinnamon. Yum!
Suddenly, I'm craving a huge bowl of cereal. And a milkshake. And a Whopper. Burger King has me wrapped around its innovative fast food fingers, obviously. If you're wondering, "What will they think of next?" I'm personally hoping for an Apple Jacks shake.