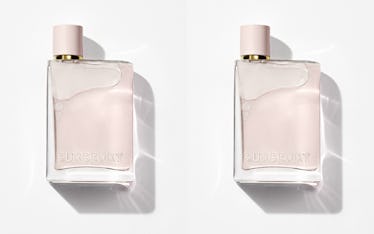 Burberry's New "Her" Perfume Is Unlike Anything You've Ever Smelled From The Brand Before
Burberry
Scent can capture the true essence of a place or person in ways that are at once indescribable and unparalleled. If you've ever caught a whiff of something that instantly catapulted you back to a specific memory, then you know the sense's transportive power. Burberry's Her fragrance, which just launched today, was created as a means of encapsulating the brand's greatest muse, which just so happens to be a place and all those who live in it. As described in a press release, Her "captures the bold attitude and adventurous spirit of a Londoner," but in a far edgier way than we've seen from the fashion house in the past. In other words, it's far from another classically positioned fragrance. Rather, it's one that represents the character of Londoners now.
It make sense, then, that Burberry would tap its longstanding brand darling and champion of individuality, Cara Delevingne, to front the campaign. Shot by Juergen Teller, the photo series shows Delevingne exploring her hometown of London, cruising around on a double decker bus and climbing trees in what appears to be Hyde Park. It's light and airy and cool, but with a slightly gritty undertone that you can't put your finger on. The campaign video, which plays like a slideshow, is scored by Delevingne's own rendition of "Maybe it's because I'm a Londoner." Watch the clip once and I guarantee you won't be able to get the thought of a trip to the British capital out of your mind.
Watch it once, and I also guarantee you'll want to spritz on the perfume that inspired it.
A fruity and floral fragrance, Her features top notes of blackcurrant, blueberry, and raspberry; heart notes of jasmine and violet; and base notes of dry amber and musk. In an interview with Harper's Bazaar UK, Delevingne, who was the face of Burberry's My Burberry fragrance in 2014, was asked if Her is representative of a new and more mature side of the Burberry woman. "I definitely think it is. In the way it is a lot less like typical other perfumes – My Burberry included – which have that kind of old feminine thing, more beauty and glamour," she explained to the publication. "Whereas this one I feel is more layered, or has two sides to it. It has that masculine element in terms of the bottle and it's not as rich or overpowering. It's cooler, it's more withdrawn, which I like."
As Delevingne mentioned, the fragrance's packaging feels decidedly modern and sleek and minimalistic. Inspired by the archival design of Burberry's first fragrance, Burberrys for Men, which was launched in 1981, the bottle is a simple glass rectangle, with the applicator sitting off to one side. Around the neck of a bottle is a smooth gold ring, which can be personalized with engraved initials.
The fragrance as a whole feels modern, straightforward, cool. It's the kind of perfume you want to become your signature so that when someone catches a hint of it on the street, you'll pop into their mind.
Shop Her now at macys.com.