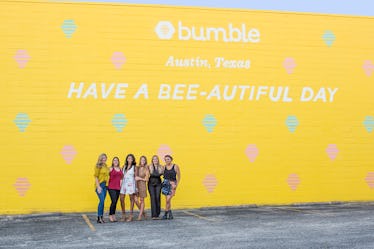 Bumble Found Out About The Guy Who Booked 6 Dates In One Night & Sent The Girls On Vacation
Bumble
A couple of months ago, Lisette Pylant thought she was going on a date with a dude she met on her birthday. She stuck it out for 45 minutes, until finding out — upon another woman's unexpected arrival — that the guy had double booked himself. As if double booking dates wasn't bad enough, the women later found out he booked SIX dates that night. But instead of competing against each other for this loser's affection, the women pulled a John Tucker Must Die and became BFFs. And recently, dating app Bumble set up a vacation for the six girls to attend a music festival in Austin, Texas.
So how did going on a date with a totally chauvinistic jerk turn into a happy, fairy-tale friendship that eventually led to an amazing vacation from the world's coolest dating app? Well, it all started when Lisette decided to do her duty as a good millennial and provide us with live tweets of the entire experience. The tweets were pretty epic, and the story is pretty unbelievable, so needless to say, they went viral. And that's when they captured the attention of Bumble's Head of Brand, Alex Williamson el-Effendi.
You see, two of the women being played by this guy were actually there on Bumble dates, so it was really moving for the execs over at Bumble to see that their users were taking a negative experience and flipping it into something positive and empowering. When el-Effendi got wind of the great story, she was totally moved:
I spoke to one of the girls on the phone shortly after their story surfaced. I was so moved by the way that these women handled this horrible date: they protected one another from the experience and rallied around each other in support. Instead of being competitive, they became friends with each other and their actions embodied Bumble's ethos of kindness and inclusivity. We had the best time meeting them and we continue to be inspired by their story of female empowerment.
To reward them for really embodying what Bumble is all about, the Bumble team decided that simply removing this guy from the app wasn't enough. They also wanted to encourage and foster the friendship between the girls, so they decided to send them to Austin, Texas, to enjoy the ACL Music Fest.
"Finding friends as adults can be challenging, and we were so excited that these ladies found an amazing silver lining of friendship through a less than ideal dating experience," echoed Cecily Gold, Bumble's User Experience Manager. "We knew that we had to meet them in person, hug them, and empower their bond."
"We knew that we had to meet them in person, hug them, and empower their bond."
Needless to say, the women had an awesome time. "I had an absolutely wonderful time visiting Austin and getting to know the Bumble team IRL," says Lisette. Another one of the women sent on the trip, Raven Manigualt, echoed those same sentiments: "Bumble has gone above and beyond — the trip was not only EPIC, but gave an amazing opportunity for a group of unlikely friends from different walks of life to enhance the bond we share."
And that bond is really the most important part of it all here. "This group of women are all highly educated, empowered, creative and welcoming, and as the six of us like to say, 'Same, same, but different,'" Lisette explained. "We were all thrown into a messy, unpredictable situation and decided that, instead of competing with one another, we would instead amplify each other's voices and lift one another up."
"By far the greatest joy has been getting to experience it all with my supportive, like-minded, and kind new friends," said Kali Bower. "Lisette, Kristin, Raven, Alex, Jessica, and I will forever be bound together by this experience — and I couldn't be more proud."
Cheers to all of these women and Bumble for prioritizing GIRL POWER.
Check out the entire Gen Why series and other videos on Facebook and the Bustle app across Apple TV, Roku, and Amazon Fire TV.
Check out the "Best of Elite Daily" stream in the Bustle App for more stories just like this!