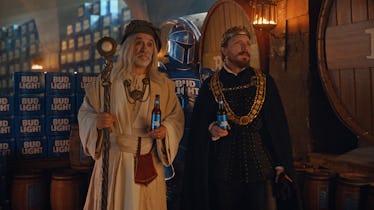 Bud Light Just Called Out Miller & Coors In Their New Super Bowl Commercial
Courtesy of Bud Light
Sheesh, talk about shade. If you're watching the big game, then you probably noticed how Bud Light's 2019 Super Bowl commercial called out Miller Light and Coors Light — and you'll never guess why. No, it didn't criticize the companies' logos or mock their flavors. Instead, Bud Light called both beer empires out for apparently brewing their products with corn syrup, according to the commercial. In case you didn't know, per the ad, Bud Light doesn't use corn syrup in its brews. Therefore, in its Super Bowl ad, iconic Bud Light characters take viewers on a journey through harsh conditions in order to deliver an order of corn syrup to its rightful owners.
If you haven't seen the clip yet, let's take it from the top. The commercial starts out with King John Barley IV, Bud Knight and the Wizard talking about how to brew Bud Light. Their conversation is quickly interrupted when a gigantic order of — you guessed it — corn syrup arrives at the castle. The group quickly notes that Bud Light doesn't use corn syrup in its brew, and mentions a company that apparently does: Miller Light. At that moment, the group embarks on a mission to bring the barrel where they think it belongs.
However, when they get to the Miller Light castle, one of the brewers tells the Bud Light group that the corn syrup doesn't belong to Miller. Why? Because they already received their shipment "this morning" (bummer). The guard then suggests that the Bud crew brings the barrel to the Coors Light castle — and, of course, they listen.
The group's mission to the Coors Light castle is a doozy. Between volcanoes, electrifying lightning bolts, and an octopus, its obvious that they're dedicated to returning the corn syrup to its rightful owner. Thankfully, its owner in the commercial is in fact Coors Light. When the Bud Light boys arrive in the snow-filled mountains in the Coors Light kingdom, they're greeted by a seemingly excited brewer. He says, "Well, well well... looks like the corn syrup has come home to be brewed."
That's certainly not where the shade ends, though. While the Bud Light characters are staring into the wait with a bewildered look on their faces, the Coors Light brewer bluntly states in the commercial, "To be clear, we brew Coors Light with corn syrup."
To that, King John Barley IV nervously laughs and shakes his head before the scene ends. The commercial is then topped off with a tall, foaming glass of Bud Light aside a statement that emphasizes the fact that isn't not brewed with corn syrup. If you need more proof than that, rest assured that Bud Light recently announced that it's going to add an ingredients list to its secondary packaging come February 2019. Talk about transparency.
Whether you're a fan of Bud Light, Coors Light, Miller Light, or all of 'em, you have to admit that the commercial was pretty dang theatrical. Believe it or not, this isn't the first time Bud Light characters like King John Barley IV, Bud Knight, and the Wizard took the TV screen. Most of them starred in the famous "Dilly Dilly Super Bowl Trilogy," which emphasized the company's iconic catchphrase in a movie-like way.