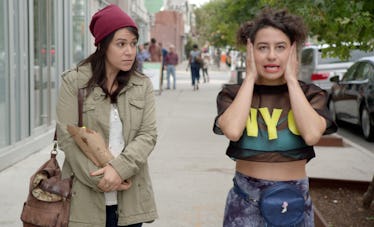 'Broad City' Just Revealed When Its Final Season Will Premiere, So Get Ready
Comedy Central
Abbi and Ilana's wild, weed-fueled adventures around New York City are sadly about to come to an end, but we still have one more season of Broad City to enjoy the zaniness. The premiere date for Broad City's fifth and final season was just revealed, and fans should rejoice because Broad City Season 5 premieres sooner than you think. Let's go over everything that we know about the upcoming big farewell season.
Earlier this year, a few months after Season 4 of Broad City ended, Comedy Central announced the the next season of Broad City would be its last. The news bummed out a ton of the comedy series' fans, but at least co-stars and co-creators Abbi Jacobson and Ilana Glazer are getting a fifth season to say a proper goodbye to their fictional counterparts Abbi Abrams and Ilana Wexler. The pair released a new video on Thursday to reveal when Broad City Season 5 will premiere. Aptly titled "Sprint to the Finish," the video was a montage of all the times that Abbi and Ilana have raced down the streets of New York... with a quick smoke break thrown in there for good measure. I guess I never realized just how often Abbi and Ilana were running on the show, because it is a pretty impressive montage!
The clip ends with an out-of-breath Abbi and Ilana sprinting into a cubicle and announcing that Broad City Season 5 will premiere on Thursday, Jan. 24. Check out the fast-paced announcement video for yourself below:
As for what to expect from the final season, that is anyone's guess. Since it is the big goodbye, however, there might be a lot more sweet friendship moments between Abbi and Ilana than ever before. The previous Season 4 certainly seemed to be leaning that way for its major episodes — although Abbi and Ilana's unwavering friendship is the core of Broad City, earlier seasons of the series showed this love amidst wacky moments of hijinks rather than too many serious situations. Last season, though, leaned much more into sweet and vulnerable moments that showed how much Abbi and Ilana cherish one another, beginning with the story of how they first met each other and ending with Abbi volunteering to sacrifice her life for Ilana (even though it wound up being unnecessary).
And although Broad City is ending, that does not mean that fans have seen the last of Abbi Jacobson and Ilana Glazer on Comedy Central. The two have three new projects in development at the network: an animated comedy revolving around teenagers hanging out at the mall after school called Mall Town USA, an L.A.-based comedy starring Glazer's brother Eliot called Platinum Status, and a look into the lives of twenty-somethings who work in Washington D.C. called Young Professionals.
Get ready for Abbi and Ilana to return to your TV just a couple of weeks after the new year! Broad City's fifth and final season premieres on Comedy Central on Thursday, Jan 24 at 10 p.m. ET.