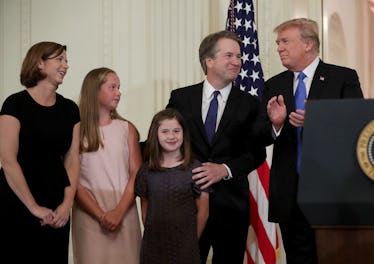 Donald Trump's Supreme Court Pick Has Said Some Interesting Things About Impeachment
Chip Somodevilla/Getty Images News/Getty Images
Everyone was eagerly awaiting President Donald Trump's pick for who would replace Justice Anthony Kennedy on the Supreme Court, because of the severe impact his choice could have on our legal system. On Monday, July 9, that wait came to a close as Trump announced his SCOTUS pick: Judge Brett Kavanaugh. And given the president's various legal troubles, you may be wondering how the newcomer feels about impeachment. I'm not sure I can really tell, Brett Kavanaugh's quotes about impeachment have me raising my eyebrows.
On July 9 at 9 p.m. ET, Trump officially tapped Kavanaugh for the SCOTUS bench. Part of me is not surprised that it turned out to be Kavanaugh. After all, Trump was looking to swing the Supreme Court to a conservative majority, and Kavanaugh's views on abortion seem to be in line with Trump's. He recently tried to overrule a decision from a lower court in which allowed an undocumented and unaccompanied teenager to leave government custody in Texas and get an abortion, according to Business Insider. Which is appears to be good for Trump who was aiming at a justice who would work to overturn Roe v. Wade. So everything seems to be in line, until we get to the matter of impeachment.
What the potential next Supreme Court Justice thinks about grounds for impeachment could be very significant, considering the possibility that the question of whether or not a president can be charged with a crime may end up in front of the Supreme Court, thanks to the ongoing Russia investigation. And Kavanaugh has said two very important things about impeachment that, taken separately, could have every different ramifications for Trump.
I'll start with the good news — well the good news for Trump anyway.
Kavanaugh is probably most known for working with Kenneth Starr, the special prosecutor who investigated President Bill Clinton's affair with Monica Lewinsky. After his run with Starr, in 1998 Kavanaugh argued that a President should only be able to be indicted after he leaves office or is impeached. He wrote.
Congress should establish that the President can be indicted only after he leaves office voluntarily or is impeached by the House of Representatives and convicted and removed by the Senate.
That's good news for Trump and definitely a check in the pro column for the next Supreme Court Justice, given that Trump is currently under investigation by Robert Mueller for obstruction of justice and possible Russian meddling in the 2016 presidential election, as well as the other civil suits that Trump is involved in. Under Kavanaugh's reasoning, the president can't be indicted unless he is impeached or leaves.
Which brings me to my next point, which isn't all rainbows and sunshine, since Kavanaugh's other quote about impeachment could be very bad for Trump. Going further back to when Kavanaugh worked on the Clinton investigation, he suggested that a president — namely, Bill Clinton — misleading his staff and the American people was grounds for impeachment. A report that Kavanaugh penned with Starr in 1998 read,
The President misled his Cabinet and his senior aides by denying the relationship to them. The Cabinet and senior aides in turn misled the American people and the Congress by conveying the President's denials and professing their belief in the credibility of those denials.
That same report also faulted Clinton for refusing invitations to testify in front of a grand jury.
Kavanaugh is basically saying that a president lying could be grounds for impeachment, which is kind of awkward given the fact that Trump isn't exactly known for telling the truth in general. To boot, it could be very bad news for Trump who has repeatedly denied all accusations of Russian meddling in the 2016 election or any suggestions of communication by him or his team with Russia about the election, despite there being evidence. For instance, those emails indicating that Trump's son-in-law Jared Kushner knew that Russian officials were trying to get in touch with the Trump campaign, according to Vox. In 2017, Trump also gave The New York times a misleading statement about a meeting his son, Donald Trump Jr., arranged with a Russian lawyer during the campaign, according to The New York Times. There's also the fact that Trump refuses to talk to Mueller.
So what does it all mean? Honestly, with this mixed a bag, I'm not going to make a call on it. But you can bet I'll be watching what Kavanaugh says next with bated breath.