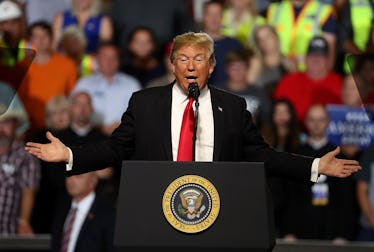 Brett Kavanaugh's Past Court Experience Is Surprisingly Controversial
Justin Sullivan/Getty Images News/Getty Images
Ever since Supreme Court Justice Anthony Kennedy announced his retirement, the country has been patiently waiting for President Donald Trump to announce who he will choose as his nominee to take Justice Kennedy's place. Trump's decision is especially important because he's expected to pick a conservative judge, tipping the scale in favor of the conservatives sitting on the bench. On July 9, Trump announced that he has chosen Judge Brett Kavanaugh as his nominee. And Kavanaugh's past court experience is not that much of a surprise, but the choice is still a somewhat controversial one.
Trump reportedly chose his Supreme Court justice nominee on July 9 after spending the entire morning seeking out advice on his picks from advisers, according to the New York Times. And at around 9 p.m. EST that same day, Trump revealed his choice to the public. Trump selected Judge Kavanaugh as his pick to take over Justice Kennedy's place, who was one of his rumored top two choices, per the Times. Judge Kavanaugh is a conservative, which is no surprise, but his past experience is well... kind of all over the place. For one thing, he was actually once a clerk under the retiring Justice Kennedy, whose vote while on the Supreme Court bench was considered a "swing vote" on many issues, balancing his decisions between conservative and liberal viewpoints. If Judge Kavanaugh is approved by the Senate and takes the place of Justice Kennedy, who is scheduled to step down from his post on July 31, his vote is expected to lean far more towards the conservative opinion.
But Kavanaugh might be a difficult sell for Trump, considering his political and legal history. For one thing, he worked with Kenneth Starr to investigate President Bill Clinton in the late 90s (when he said some interesting things about impeachment). Later, he was an aide to President George W. Bush. In fact, Kavanaugh was part of Bush's legal team during the 2000 presidential election recount which won him the presidency, according to USA Today. Which might be awkward now, considering that Bush has been vocal critic of Trump's.
His political work was apparently a problem when he aimed for federal court, though. In 2003, when President Bush first nominated him for the D.C. Circuit Court of Appeals, Senate Democrats blocked his nomination, saying that he was too partisan to become a judge, according to Bloomberg. But he finally made his way onto the court, where he's been a judge on the D.C. Circuit Court of Appeals since 2006.
In his 12-year career on the D.C. Circuit Court, Judge Kavanaugh has been on the bench for many controversial cases. He argued in a 2015 dissent that an Obamacare mandate for contraception coverage infringes the rights of religious groups. In 2011, he also dissented from an appeals court decision upholding Obamacare's individual mandate, which requires most Americans to receive basic health insurance. So this track record from Judge Kavanaugh's past definitely reads very much conservative.
If confirmed, Judge Kavanaugh could be the deciding vote should Roe v. Wade — the 1973 Supreme Court Case that legalized abortion — be overturned by the high court.
Kavanaugh was recently faced with the question of abortion in 2017, and it didn't go well. The American Civil Liberties Union (ACLU) sued the Trump administration over a policy that prevented undocumented minors from receiving access to abortion on behalf of one of these undocumented minors, under the name "Jane Doe." The case came before a three-judge panel in the D.C. District Court, and Judge Kavanaugh happened to be one of them. In his argument, he stated that Jane Doe does have the legal right to abortion under Roe v. Wade, but stated that she should be required to find a sponsor in two weeks that would remove her from federal custody and into the hands of somebody else — a timeframe that was incredibly unrealistic The D.C. District Court reversed Judge Kavanaugh's decision, prompting him to write a letter of dissent. It read,
The minor is alone and without family or friends. She is in a U.S. Government detention facility in a country that, for her, is foreign. She is 17 years old. She is pregnant and has to make a major life decision. Is it really absurd for the United States to think that the minor should be transferred to her immigration sponsor—ordinarily a family member, relative, or friend—before she makes that decision?
Following Judge Kavanaugh's nomination, ACLU Director David Cole released a statement to the press on July 9 regarding the judge's possible appointment. The statement reads, in part,
Brett Kavanaugh may bring the requisite experience, but given Donald Trump's promise to overturn Roe v. Wade, the decision that recognized the right to an abortion, and efforts to reverse progress on civil rights and civil liberties, that's not enough. It's incumbent on Congress to determine whether Kavanaugh's legal views are compatible with the powerful role he will play for generations.
Judge Kavanaugh is still just a mere nominee, so he hasn't quite made it to the Supreme Court bench just yet. It's unclear whether or not his background will be totally aligned with the Trump administration's agenda. But judging by his experience, should he be appointed, I think it's safe to say that conservatives will have a lot to be happy about in Supreme Court cases to come.