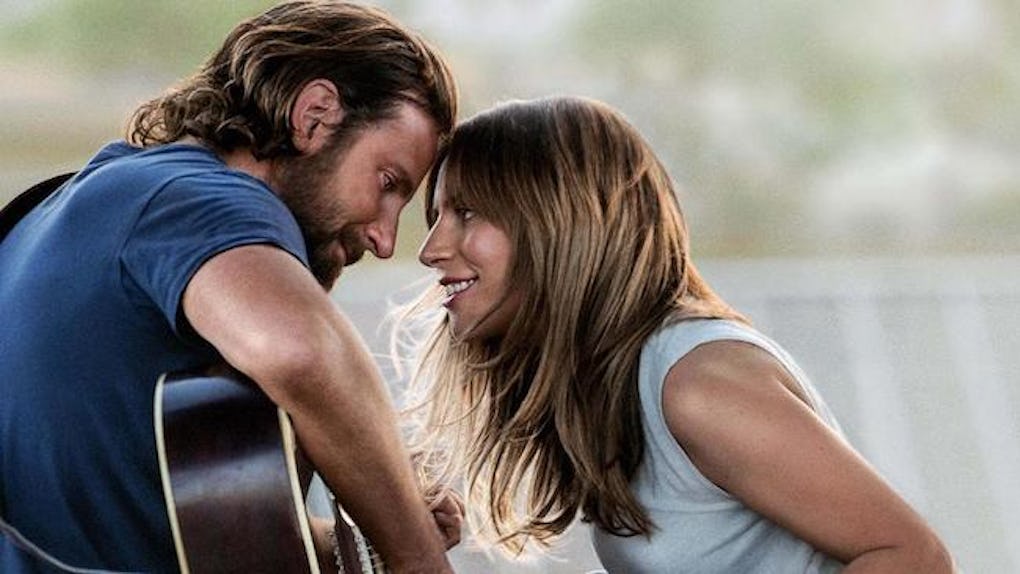 Malpaso Productions, Live Nation Productions, LLC
Bradley Cooper & Lady Gaga 'A Star Is Born' Halloween Couples' Costumes Are Easier Than You'd Think
Ever since Lady Gaga discussed her role in the remake A Star Is Born in her Netflix documentary Five Foot Two, I have been super excited to see the actress make the role her own. I've supported the multi-hyphenate since "Just Dance" came out, and am sure many other Little Monsters will be flocking to theaters to show support as well. Since this movie is coming out in October, AKA spooky season, there may be quite a few people wanting to dress like Gaga in her new movie. Bradley Cooper and Lady Gaga 'A Star Is Born' Halloween couples' costumes are the perfect way to be festive during the season while remaining current with one of the most important movies to hit theaters this year.
Whether you're in a relationship, dressing up with a friend, or going solo, dressing up as characters from your likely new favorite movie this year will certainly be a winning look. Plus, the outfits below will be comfortable if you're hopping around parties or bars, since these are "costumes" you could wear in your normal, everyday life. I might personally forgo carrying an air guitar around with me in my day-to-day, but to each their own. Read on to see how to get the lead characters' looks from A Star Is Born.
Lady Gaga as Ally
LUSMAY Womens Short Sleeve Loose Fitting T-Shirt, $17, Amazon
Badge Holder, $8, Amazon
Zealmer Metal Ring Stick Bar Pendant Necklace, $8, Amazon
SweatyRocks Women's Striped Elastic High Waist Slim Fit Pants, $10, Amazon
Yeviavy High Heels, $20, Amazon
Sherry Fashion Womens Metal Chain Dress Belt, $13, Amazon
In A Star Is Born, Lady Gaga plays singer-songwriter Ally (no last name, à la Madonna), who falls in love with Bradley Cooper's Jackson Maine. When she's about to perform onstage with Jackson, Ally wears a basic white tee with rolled sleeves, a VIP guest badge necklace, some layered necklaces, and striped pants.
Bradley Cooper as Jackson Maine
Sumolux Men's Fedora Hat Band Light Weight, $14, Amazon
Legendary Whitetails Men's Journeyman Rugged Shirt Jacket, $70, Amazon
JOUSEN Men's Chukka Boots Classic Suede Desert Boot, $38, Amazon
Levi's Men's 501 Original-Fit Jean, $37, Amazon
Wrangler Men's Western Cowboy Cut Two Pocket Long Sleeve Snap, $23, Amazon
RI Novelty Rock Inflatable Guitars 42 Inch, $15, Amazon
For the rugged, All-American rock star look, you'll want to keep it simple with a long-sleeve button down, jeans, boots, a hat, and jacket. Cooper's character sports this look throughout the film, and you can't go wrong here if you're trying to replicate that look.
It's as easy as that to get the look from A Star Is Born. Besides wearing these ensembles for Halloween and your daily life, you can also pop these outfits on for the numerous times you will be seeing this (surely) Oscar-winning movie. If people can dress up for Harry Potter, we can dress up for Lady Gaga. Thank you and good night.
Check out the entire Gen Why series and other videos on Facebook and the Bustle app across Apple TV, Roku, and Amazon Fire TV.
Check out the "Best of Elite Daily" stream in the Bustle App for more stories just like this!