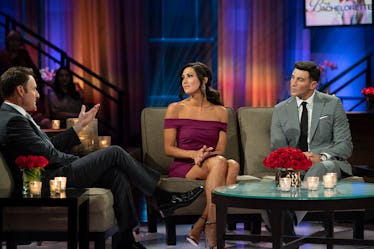 Blake Posted A Heavy Instagram About Becca After His 'Bachelorette' Elimination
ABC
On The Bachelorette's finale episode, Blake Horstmann found himself in the uncomfortable position of watching Becca Kufrin's rejection of himself and then having to explain his feelings on a live platform. Clearly emotionally affected by Becca's goodbye, Blake struggled in finding answers for his elimination while watching the season, but he's finally managed to express everything on his mind. Blake's Instagram post about Becca after the Bachelorette finale is very heavy, but it's great to know that he doesn't regret his journey to find love.
Blake broke the hearts of Bachelor Nation when he sobbed after unexpectedly being sent away by Becca. After having conversations with her during the season about experiencing the show's aftermath together, Blake was then terrified about going through the process alone. On After the Final Rose, he revealed that his elimination blindsided him, and although he and Becca spoke maturely with each other, Becca didn't really have many specific explanations for her decision. Although he clearly wanted a little more reasoning from her, Blake still said he was lucky to have Becca as his Bachelorette.
A day after the live finale, Blake has taken to Instagram to share insight into his thoughts. You might want to have your tissues at the ready while reading his reflection on the Bachelorette journey. Alongside a photo of himself with Becca observing a waterside sunset, he wrote:
No one should ever regret falling in love. I know I sure don't. #thebachelorette is a journey I will always look back on and smile. I have seen some incredible places and made incredible friends that will be in my life forever. I put every ounce of me into this experience and got more out of it then I could have imagined.
Aligning with the sweet man we saw on TV this summer, Blake joked about the lighter lessons he had learned, likely through Twitter's opinions of him throughout the season. He poked fun at the Bachelorette end credit scene that showed him needing to pee before a rose ceremony and his outfit consisting of a black shirt and bright red bow tie. When the message turned serious again, Blake accepted his new status as a Bachelor Nation family member, even promising to write back to as many fans' comments as possible. Total sweetheart, right?
It's pretty customary nowadays for a Bachelorette runner-up to thank his leading lady for the experience, and Blake continued the tradition, writing:
I learned most of all, that being honest means being vulnerable and open and to fight for the woman you love no matter the obstacles... @bkoof I want to thank you for showing me the kind of relationship I want in my life and just how much love I am capable of. You are a special woman and I wish you all the happiness in the world! I will never apologize for how hard I love and I will love again just as hard...
Aw, Blake!
When After the Final Rose aired, fans connected with Blake's honesty toward his heartbreak, posting reactions to his emotion on Twitter. If Blake doesn't become the next Bachelor, he clearly has a crop of supporters ready to remind him of his worth.
Blake is obviously still dealing with any feelings left over from this experience, but as is the case with most Bachelor alums, the Colorado native will definitely have his own amazing love story someday. We're here for you, Blake! Thanks for being so open with Bachelor Nation.