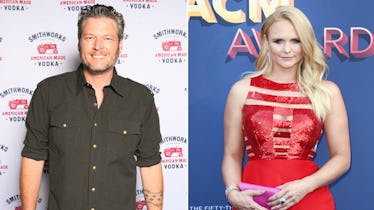 Blake Shelton Broke His Silence Over The Shady Tweet Fans Think Was About His Ex
Jason Bahr/Tommaso Boddi/Getty Images Entertainment/Getty Images
Hey, do you remember that time when Blake Shelton threw (what seemed like) some casual shade at his ex, Miranda Lambert, on Twitter? I'm sure you haven't forgotten just yet, considering it was literally days ago (and if you did forget, here's your refresher). Well, throwing shade might not have been exactly what it was, according to Shelton himself. During a Facebook Live session, Blake Shelton explained his "karma" tweet, and it may not have been about Miranda Lambert after all.
But let's back up this gravy truck real quick: Rumors were swirling that Miranda Lambert ended her two-year relationship with Anderson East to date another (married) man, according to People, and did so pretty fast — the split was revealed in early April 2018, and on April 24, People reported that Lambert was dating singer Evan Felker. While that is a bit of a quick turnaround, we can never say with concrete knowledge what went on, since we're not ultra-famous BFF's with anyone connected in this story, so let's keep that in mind, shall we?
According to Us Weekly, Lambert and Felker began spending time with each other when they were on the road together in early 2018, when Lambert was still reportedly seeing East. Felker's wife of two years, Staci Nelson, reportedly filed for divorce in February 2018. Elite Daily reached out to both Shelton's and Lambert's teams for comment on these reports, but has not heard back at the time of this publication.
But then, on April 25, Blake Shelton took to Twitter and had a few ~choice~ words to say about the whole ordeal (or, at least that's what it certainly seemed like). He wrote,
Been taking the high road for a long time.. I almost gave up. But I can finally see something on the horizon up there!! Wait!! Could it be?! Yep!! It's karma!!
Eesh. I mean, that tweet sounds pretty shady to me, especially because when Shelton and Lambert divorced back in 2015, there were rumors that it was because Lambert had cheated on him, allegedly with singer Chris Young, although Young denied those rumors.
But let's get to Shelton's Facebook Live interview, where he *sort of* shut down rumors that his tweet was directed towards Lambert. He said,
If it was meant for people to know exactly what it meant, it wouldn't have been so cryptic. But I can tell you it's been, actually, very entertaining to watch the world run with it and assume what they think it's about.
Hmmm, very interesting. Very interesting, indeed. He continued, saying,
I'll say this, people are way off the mark. But I don't have time to worry about it.
I don't know, fam. I mean, I see Blake Shelton's lips moving... but I don't know if I believe the words coming out of his mouth?
But hey, whether it was a lil' petty smack talk or purely coincidental that what he said only seemed geared towards Lambert, it's pretty obvious that Blake Shelton is loving life right now with singer Gwen Stefani, who he's been dating since 2016 after meeting her on the set of The Voice.
The couple was there for each other when going through their prospective divorces, too. In July of 2016, Stefani opened up to Harper's Bazaar about how they both went through similar situations at the same time, which gave her a lot of hope. She said,
Blake was like, 'Everybody, before we go out there, I want to let everyone know that by the time this airs, I will be divorced.' It was like being handed this gift of a friend who was going through the exact same thing at the exact same time and then everything flipped. It went from horrible to, like, hopeful and like, 'Wow, God, you just don't know what's gonna happen next.'
And, in an interview with Haute Living in May of 2016, Stefani spoke about how Shelton played an important part in helping her get through her divorce from her ex-husband, Gavin Rossdale. She said,
When you're going through a really tough time, there are people that come in your life, like a friend that can help you get through things, and he's definitely one of those people. That's it.
The. Absolute. Sweetest.
So, whether or not the shade runneth over in Blake Shelton's recent tweet, we all know one thing: He's doing juuust fine, y'all.