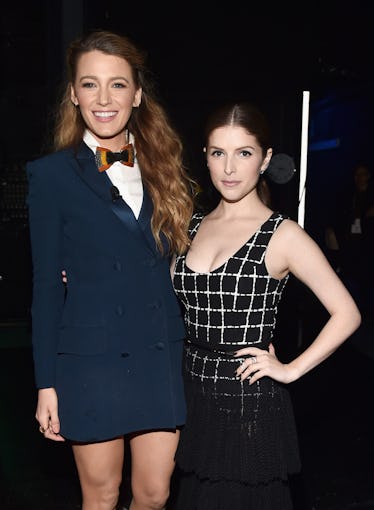 Blake Lively Just Made The Most Inappropriate Joke About Ryan Reynolds & Anna Kendrick
Alberto E. Rodriguez/Getty Images Entertainment/Getty Images
There seems to be a major girl crush thing happening between Anna Kendrick and Blake Lively lately, and I am totally loving this awesome new development. First, Kendrick dished about what it was like to kiss her A Simple Favor co-star, calling the two of them "the mintiest, freshest two people to have ever kissed in the history of America." And yeah, I totally buy that. Now we have Lively confirming to Entertainment Tonight that the Pitch Perfect actress is "the hotter, female(r) version" of her husband. Blake Lively's joke about Ryan Reynolds and Anna Kendrick and their sexy similarities is actually hilarious and I am so here for it.
So here's how it all went down: See, the co-stars recently sat down with ET's Brooke Anderson to discuss their upcoming flick (which hits theaters on Sept. 14, and OMG I cannot freaking wait) and because Anderson is good at her job, she wasted no time getting to the bottom of the Lendrick (Kively?) womance.
"So what kind of Ryan-like quality does [Kendrick] possess?" she wanted to know.
"Umm mostly in bed, I find," Lively jokingly responded. And if that wasn't hilarious enough, Kendrick then continued the bit by leaning in and stage-whispering: "Who's bigger?"
Man, I just totally ship these two, don't you?
Meanwhile, this isn't the first time Kendrick showed her competitive streak when it comes to one-upping Reynolds. She took home the 2018 Teen Choice Award for Choice Comedy Movie Actress and Choice Twit (for celebrity Twitter user) earlier this month, and when she stepped up to accept her surfboard for the latter, she couldn't resist name-checking the Deadpool star, whom she beat out in the category.
"I have so much fun on Twitter, and I know that Mindy [Kaling] and Kumail [Nanjiani] and stuff were nominated," she exclaimed. "And also I know that Ryan Reynolds was nominated, so in your face, Ryan! I beat you! Stay in your lane!"
You really have to watch the diss because it's just that good:
See what I mean?
Of course, Kendrick did cop to later apologizing for throwing so much shade Reynolds' way, even if she didn't totally mean it when she was saying it.
"I saw Ryan with Blake yesterday and I did say, 'Sorry about telling you to suck it,'" she explained to ET. "But I did sort of admit that there was part of me that was not just doing a bit and was genuinely really excited that I beat him."
I feel you, girl!
So with all the buzz surrounding the make-out sesh between Kendrick's character Emily and Lively's character Stephanie, I have to wonder if Kendrick has ever considered dating a woman?
"I definitely — there's somebody I'm still friends with, and when we met we kissed," she explained during an interview with PrideSource. "This was after high school, and it was the first time I had kissed a girl where it wasn't just like, we're at a party and boys are watching! But I think I haven't had that emotional love for a lady, which isn't saying it could never happen to me."
Better watch your back, Ryan!