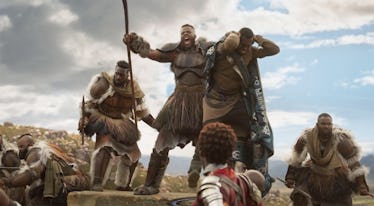 'Black Panther' Smashed Box Office Records & Literally No One Is Shocked
Marvel
Black Panther's original box office projections, made back around Jan. 20, had originally pegged the film to come in on the slightly higher side of average, somewhere around the $100 million mark, $120 million as a stretch goal. But, suddenly, the numbers were going up. On Wednesday, Feb. 14, they were pegged at $170 million. By Thursday, Feb. 15, that was lifted to $180 million, and by Friday, $200 million and climbing. Black Panther's box office records defied all the expectations and smashed records left and right by the time the weekend was over.
When Thursday, Feb. 15 estimates started lifting the numbers to $180 million, prognosticators at Deadline said that in order for this to pass, Black Panther would have to "clear $20 million" on Thursday preview night. It not only cleared that number with ease, but wound up at $25.2 million. That not only doubled the previous record (held by Deadpool) of a Thursday night preview in February ($12.7 million), but it's among the highest-grossing preview Thursday ever for a superhero film, including ones that have come out in far more prime positions on the calendar. In the Marvelverse, only Avengers: Age of Ultron has had a better preview Thursday ($27.6 million).
The movie had only been officially open for six hours, and it had already smashed the largest Thursday opening ever in February.
And that was just Thursday.
By the time the weekend was over, Black Panther had smashed through four more records.
Largest Winter Season Opening Weekend Ever & Largest February Opening Weekend
Winter season is not the time to open movies, at least according to conventional wisdom. It's where they go to die. The Oscar contenders have all had their "limited release" opening just before the new year and are now opening across the country, in hopes that nominations buzz will bring in audiences. And February has historically been *the* dead zone for new films because it's when the Oscars happen. Conventional wisdom says this is when all the procrastinators are running to see The Post or Three Billboards.
The last film to hold both these records, by the way, was Deadpool at $132 million over three days. Black Panther beat it handily at $202 million.
Largest. Monday. Ever.
President's Day Weekend made this a four-day weekend opening since many people take the Friday off as well. Because of that, lots of people waited and saw the film on Monday.
The last film to have this four-day bounce was Star Wars: The Force Awakens when Christmas Day fell on Monday, but the official holiday was observed on Friday. Christmas Monday saw Star Wars smash the record for the largest Monday box office of all time with $40.1 million. Black Panther smashed through that record (but only just!) with $40.15 million.
Largest President's Day Opening Weekend
That puts the grand four-day total for Black Panther at $242 million, taking down the previous Deadpool record of $152 million. Keep this up and President's Day Weekend will start being an official blockbuster tentpole release date.
Now, we should note that there is one extenuating circumstance, which is the Olympics forcing back the Oscars by a couple of weeks. In most years, this week would be Oscar buildup and anything released in this frame would have trouble competing with that. So, Black Panther had a calendar that also played more favorably than most years. But Box Office Mojo also notes there were factors against it, too:
Black Panther's per theater average for the three-day weekend was a massive $50,250, the third largest ever. Even more eye-opening, Black Panther's theater count was the smallest among the top fifteen openings of all-time.
Black Panther Is Second Only To 2012's The Avengers
This isn't immediately obvious, but Black Panther places second to The Avengers in several categories. Those second place finishes include:
Highest opening for a Marvel Cinematic Universe film
Highest opening for a Marvel Comic adaptation
Highest opening for a Superhero film
Again, Box Office Mojo says:
Black Panther has already outgrossed the lifetime domestic totals for Doctor Strange ($232.6m), Thor: The Dark World ($206.3m), Thor ($181m), Ant-Man ($180.2m), Captain America: The First Avenger ($176.6m) and The Incredible Hulk ($134.8m) and will top Captain America: The Winter Soldier ($259.7m) once Tuesday grosses arrive.
Somehow, it seems like the record-breaking might not be over yet. Stay tuned.