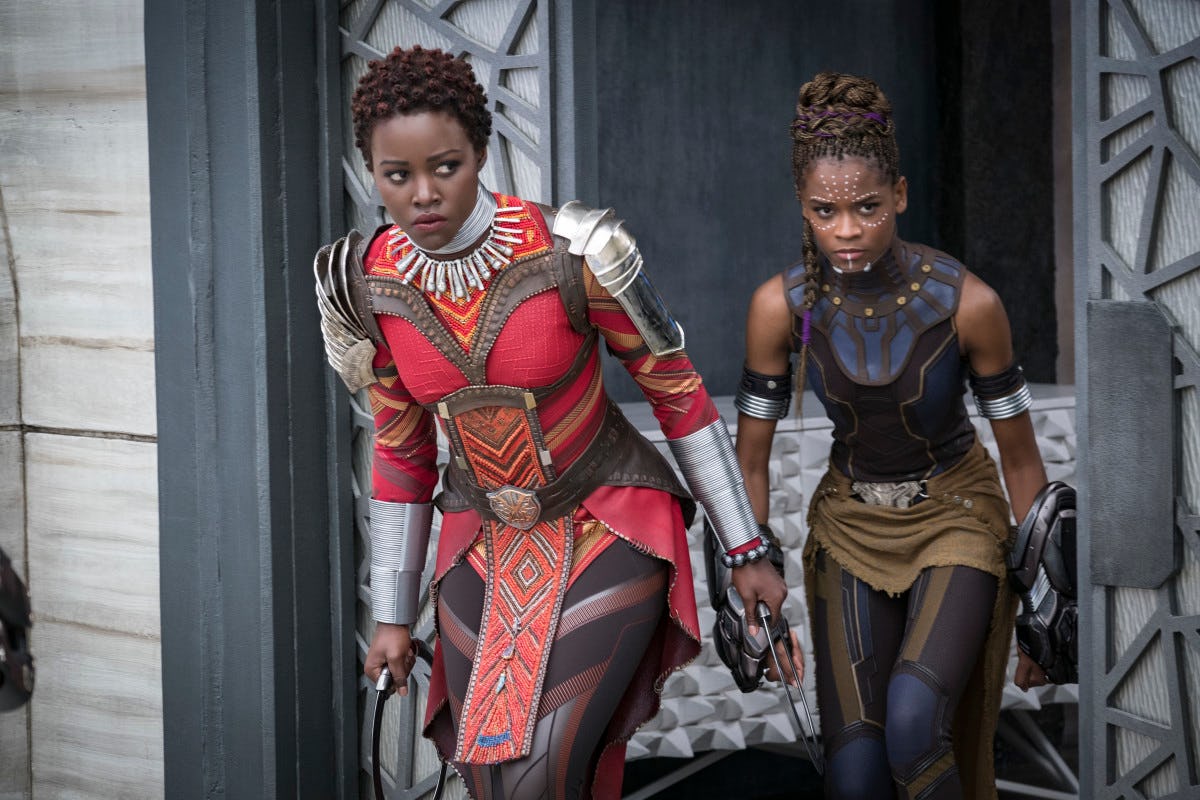 The 'Black Panther' Ratings Are Already Soaring & It's Set To Outpace 'Wonder Woman'
When the Black Panther embargo on reviews lifted last week, an amazing thing happened. The score on Rotten Tomatoes, one of the many ways casual film-goers decide what to go see, began to rise. As review after review was logged, the upward trajectory never wavered until it sat atop the rankings at a nearly-unheard-of 100 percent fresh. No Marvel movie had ever received a perfect score before. But this is just another sign of how much the movie is different from those that came before. Almost two weeks later, Black Panther ratings are still unbelievably high, and the box office predictions for this weekend are officially off the charts.
Back in mid-January, when box office predictors first got to work, they rated the buzz for Black Panther as high, but not overwhelmingly so. At the time, Variety rated it as landing somewhere in the $100 million range, with $120 million as the stretch goal. This is where Wonder Woman landed last year on opening weekend ($103 million), and where Justice League was originally forecast to hit, before falling badly short of expectations. (It drew $93 million.)
Since then, like the reviews on Rotten Tomatoes, the numbers have gone steadily up. At the beginning of this week, the forecast had it landing in the $170 million range for opening weekend, which would land it in the top ten opening weekends of all time.
But since then, there's been a further update now that the film has opened overseas to a surprising $23.2 million on opening day in countries like the UK, France, and South Korea, where most of the world's Olympians are at the moment.
Black Panther, which carries a $200 million budget, opened to $7.2 million in the U.K., $4.7 million in South Korea, $2 million in Taiwan, $1.6 million in France, and $1.1 million in Hong Kong. In many key markets, Black Panther is outpacing previous comic-book movie hits such as Doctor Strange, Wonder Woman, and Guardians of the Galaxy, all of which augurs for a healthy opening weekend and much to celebrate in the halls of Marvel.
These new numbers, plus ticket purchases ahead of domestic previews, now puts the film on track to maybe hit $180 million by the close of President's Day weekend.
According to Deadline, Thursday's previews will determine if that's going to happen:
Many are now projecting that the movie could easily surpass $180M over three-days, and if that's the case, it won't just be the best February and President's Day opening of all-time, but the best pre-summer debut (prior to May) beating Disney's own Beauty and the Beast which began with $174.7M last March. Box office analysts say that for Black Panther to do anything above $170M, the movie has to clear $20M tonight (though Avengers did mint $18.7M on its Thursday night before posting $207.4M, but you get the idea).
If the film follows this track, that will put Black Panther just outside the top five domestic opening weekends of all time. The fifth biggest opening of all time is currently held by a different Marvel film, 2015's Avengers: Age of Ultron, with $191 million. Sixth place is held by, yup, another Marvel film — 2016's Captain America: Civil War at $179 million.
If Black Panther overperforms this weekend by just $11 million (which is not out of the question if it crosses the $20 million mark on Thursday), it could crack the top five, making it the first standalone Marvel film to hold a box office opening weekend on par with the Avengers crossover film events. Of all the Marvel films, the original 2012's The Avengers still has the highest box office opening weekend total $207 million, putting it in fourth place all-time behind Star Wars: The Force Awakens, Star Wars: The Last Jedi and 2015's Jurassic World.