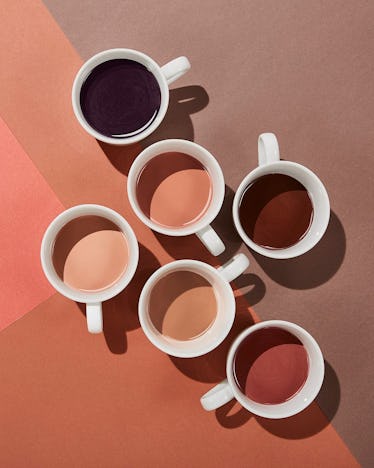 Bite Beauty Is Brewing Up Coffee Lip Glosses That Smell Like Your Favorite Caffeinated Drink
Bite Beauty
Calling all individuals who treat daily caffeination as an unmissable ritual! There's about to be a new lip-smacking good beauty product in town and it was basically tailor-made for you. Bite Beauty's French Press Glosses are nearly here to make every coffee loving beauty addict's dream come true, because who doesn't want to sip their daily cup of Joe with lips that match their beverage?
I started appreciating coffee—specifically espresso—when I was a freshman in high school. My dad would drive me to class every morning and along the way we'd stop at Starbucks, time permitting. Lattes made 7:25 am classes (are high school start times not insane?!) doable and from then on I was hooked on the habit of grabbing one every morning. Without it I am a monster; I am at my best when caffeinated.
This all goes to say that yes, I will indeed be copping a few of Bite's new glosses when they drop! They were announced in posts on Bite's Instagram and Twitter accounts just two days ago and though little information about them is provided in the post I am already sold. "How do you take your coffee? ☕️🙃 #FrenchPressGloss#ComingSoon," reads the post's caption. I have never taken my coffee in beauty product form but man, am I ready to.
Fellow coffee lovers felt the same, with one Instagram user commenting "This is everything I've ever wanted," and another commenting, "It's a dream come true for all of us coffeeholics 😍." As Allure points out, Bite's gloss offerings have been lacking—they currently only offer a Prismatic Pearl Creme Gloss ($22, bitebeauty.com), so this is a welcome addition to their selection.
While Bite's post didn't exactly provide a ton of information on their upcoming release, in-the-know beauty Instagram account trendmood1 was there to fill in some of the holes. They uploaded a split image showing what the glosses would look like in their p,"ackaging as well as swatches of each of the six hues. "L👀K what's coming next 😍🚨 by #BiteBeauty NEW #FrenchPress#Gloss 💄☕️which includes 6 shades and have a coffee scent 🙀☕️," the photo is captioned. Dreams do come true. All I was hoping for in terms of this release was that each shade would have a corresponding coffee scent so that I'll be able to smell coffee each morning before even leaving my bedroom.
The shades are as follows: Flat White, a rosy nude; Vanilla Latte, a peachy nude; Salted Caramel, an orangey nude; Dirty Chai, a rosy brown; French Press, a chocolate brown; and Black Coffee, a deep plum hue. Each shade appears to have a high shine finish and creamy texture, I can't wait to get my hands on one. According to trendmood1, the glosses will be available to shop online starting July 3 and in stores starting July 20th.
Seeing as Bite has an excellent reputation regarding its lip products I'm totally confident that these glosses won't be a letdown. Food or drink-scented beauty products can sometimes smell sickly sweet or have a strange texture but my bets are that Bite's versions ace it. The company is known for being formulated with food-grade ingredients and being infused with resveratrol (a powerful antioxidant) so you know that their offerings are good.
If coffee isn't your thing but you still want a lip product that speaks to you on a deep and personal level (coffee is my life), check out Bite's Astrology Lipsticks. The brand created a limited-edition shade for each astrological sign that comes in a specially marked tube and they are all super wearable. The range just launched this year so if you're a Leo or another sign that comes later in the year you'll have to wait until your birthday month.