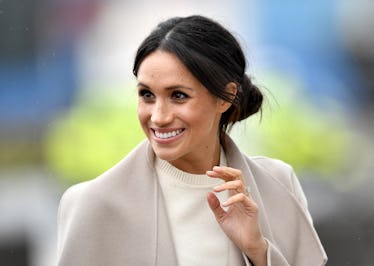 Meghan Markle's Favorite Slipper Brand Is Designing A Shoe In Her Honor & They're Chic AF
Charles McQuillan/Getty Images Entertainment/Getty Images
If you haven't heard of Birdies Slippers, listen up. They're an affordable footwear brand that designs uber comfy flats that can transition from a day spent lounging to a day in the office effortlessly, and they count some seriously high profile women as customers. Birdies' Meghan Markle slippers, which are part of their upcoming spring/ summer collection, were designed in honor of one of their favorite fans, and if they're fit for a royal, you know they're good.
As described on the brand's website, "we created a new type of footwear — a slipper made for the entertaining space for your home. Birdies are fashionable yet incredibly comfortable." In other words, they're like the silk pajama sets—which are now totally acceptable to wear out and about if properly accessorized—of footwear. Indeed, each pair boasts a plush faux shearling liner on the inside while the selection of color and pattern options you can pick from is super trendy. From all-over cheetah to olive green camouflage, the prints are super funky. There's also a range of styles with cool embellishments — from tassels to silver embroidery — so if you're not into in-your-face prints, there's something for you. Taking on the appearance of an elevated smoking slipper, the shoes can be worn with everything from nice dresses to casual pants and beyond. You only need to look to Meghan Markle, who is an avid fan of the brand, for some serious styling inspo.
Markle has been spotted out and about countless times in her classic Blackbird Birdies, including while running errands in Toronto and during a trip to London. She tends to pair them with simple skinny jeans, a long coat, and sunnies, though she's worn them with shorts and a dress, too. No matter how she styles them they look chic AF, and the brand has taken notice. In a press email, a brand representative wrote, "She effortlessly incorporates these chic slippers into the understated elegance she is known for, embodying the grace and ease that defines Birdies." I couldn't agree more. She manages to make indoor slippers look like designer loafers and I am here for it!
In honor of Markle and her upcoming wedding, Birdies have designed an exclusive, hand-made pair of slippers that they'll be sending to the bride on her special day. It features a backless, slip-on style, satin toe, and oversized metallic pom pom, and is something I could totally see a bride wearing to dance the night away in at her after party. (At least all of the brides I've ever met, but maybe not a royal one?) Small pearls encircle the low heel, adding a subtly refined touch, and the satin of the shoe appears to be a champagne color. It's super delicate and fit for a princess.
While Birdies fans won't be able to shop that exact style (it was, after all, made specially for a Duchess), similar styles will be available in the brand's upcoming spring/ summer collection. They'll feature pom poms, tassels, and high-grade materials, so you'll still feel like you're getting all the bells and whistles.
You'll be able to shop the collection starting May 9th, which is exactly 10 days before the royal wedding. If you're as obsessed with it as some of my friends are (they're literally nuts), why not grab a pair to wear while you're posted up on your couch to watch the big event? At $140, they're slightly pricier than a pair of shoes from ASOS or Urban Outfitters might be. But can you really put a price on such stately style?