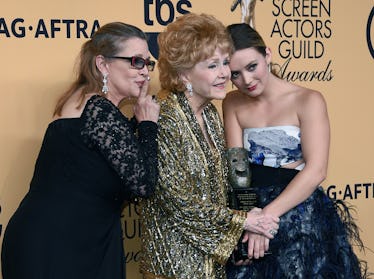 Billie Lourd Pays Tribute To Carrie Fisher & Debbie Reynolds With Emotional Posts
Ethan Miller/Getty Images Entertainment/Getty Images
When Carrie Fisher passed away last year, it was a heartbreaking moment for millions of fans. But the person who's heart it broke hardest was that of her mother, actress Debbie Reynolds. Within only a few hours of Carrie''s passing, Reynolds suffered a stroke, and passed away herself. It was a double whammy of grief for the family, and left behind Carrie's daughter, Billie Lourd, to continue the family legacy. On the first anniversary of her mother's death, we received Billie Lourd's tribute to Carrie Fisher and Debbie Reynolds, where she honored both the great women who raised her.
There was a lot of focus on Carrie Fisher on Dec. 27, with the #CarrieOnForever hashtag on the first anniversary of her passing, and quite rightly, too. But fans shouldn't sleep on Reynolds. Debbie had her own historic career, including an Oscar nomination for The Unsinkable Molly Brown. She had a number one pop hit in the 1950s, with "Tammy," from the 1957 movie, Tammy and the Bachelor. And she was nominated for a Golden Globe for her 1969 variety series, The Debbie Reynolds Show, which she quit after one season because, despite her demands, NBC would not stop advertising cigarettes during the commercial breaks.
She was a business woman who started the Debbie Reynolds Dance Studio, which is still running today. She worked hard on the cause of film memorabilia preservation. She dedicated the latter part of her life to Carrie and Billie, and worked to promote mental health awareness due to her daughter's life-long struggle with bipolar disorder.
These two strong women, both of whom went though multiple marriages, were the pillars in Lourd's life, and her role models. Check out the Instagram she posted.
The first photo is of Lourd, raising her arms to the heavens, greeting the arrival of the Northern Lights in Norway. The second is her posing with rumored boyfriend Austen Rydell, who traveled with her on the emotional journey.
Here's is the caption to this gorgeous photos of Lourd and the Northern Lights.
💲♓️📧 🌛®️🅾️🕎♌️📧🌛 ℹ️♌️ Ⓜ️🅾️🅾️♌️👢ℹ️⛽️♓️✝️, 💲✝️®️🅰️🆖👢📧🌛 🅱️🌱 ♓️📧®️ 🅾️🕎♌️ 🅱️®️🅰️ My momby had an otherworldly obsession with the northern lights, but I never got to see them with her. We journeyed to northern Norway to see if we might "see the heavens lift up her dark skirts and flash her dazzling privates across [our] unworthy irises". And she did. I love you times infinity. 🌜👙🌛
(If you can't read the emoji sentence at the top of the caption, it translates to "She drowned in moonlight, strangled by her own bra." This was the line Fisher wrote for her own obituary in Wishful Drinking.)
This isn't the first time Lourd has honored her mother this month. On Dec. 15, on the red carpet premiere of Star Wars: The Last Jedi, she memorialized her mother with an image from the Star Wars: The Force Awakens red carpet two years earlier.
Once again, we have an all-emoji caption sentence: ℹ️ ♏️ℹ️💲💲 ✌🏼🅾️⛎. (Translation: "I miss you.")
If you're wondering where Debbie Reynold is in all this, never fear. Since Thursday, Dec. 28 is the one year anniversary of her grandmother's death, Lourd waited until the morning before posting a tribute.
The photo is Debbie in her prime years, with Carrie as a small child, before her divorce from Eddie Fisher, Carrie's father. The caption reads: "💚🆎🅰️🌛🆎🅰️💚" The translation is ""Abadaba", which was Carrie's nickname for her mother.
Billie Lourd has managed to stay strong during what must be the hardest year of her life after losing the two women she loved most. We look forward to seeing her career unfold, and her character appear in the final installment of this new trilogy with Star Wars: Episode IX.