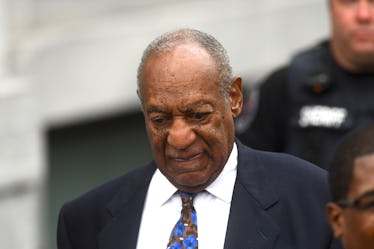 Bill Cosby Sentenced To 3-10 Years In Prison Over Sexual Assault Conviction
Mark Makela/Getty Images Entertainment/Getty Images
In the final chapter in his long-running fall from grace, Bill Cosby was sentenced to three to 10 years in state prison on Sept. 25, per NBC News. The 81-year-old comedian's "lovable dad" image was shattered by myriad allegations of sexual assault, which re-emerged in 2014 and 2015. He's thought to be the first celebrity to be convicted and sentenced following the #MeToo movement around sexual assault which emerged in 2017.
Earlier in the day on Sept. 25, which was Cosby's second day of his sentencing trial, Judge Steven T. O'Neill ruled that Cosby would be determined a "sexually violent predator," a designation that would require him to register as a sex offender with local authorities and submit to counseling, per CNN. It also indicated that he would likely be sentenced to prison. Cosby was denied bail and immediately taken into custody.
Cosby was convicted in April of three felony counts of aggravated indecent assault, stemming from his assault on Andrea Constand in 2004. Constand accused him of drugging and sexually assaulting her at his home in Pennsylvania. Previously, in 2006, Cosby settled a civil suit from Constand for over $3 million, according to NBC News. In the sentencing on Tuesday, Cosby faced up to 10 years in prison on the conviction, though his lawyers argued due to to his age he should be allowed to serve his term on house arrest. Cosby declined to speak at his trial, saying "I don't need any more discussion on that," per NBC News. Cosby's legal defense team had earlier indicated that they planned to appeal the conviction, according to The New York Times. Following his conviction in April, his lawyer said they were "disappointed" with the ruling and that they "[didn't] believe Mr. Cosby is guilty of anything."
Although the charges from the assault on Constand were the only charges leveled against Cosby, she was far from his only accuser. Cosby had been accused of sexual misconduct by over 60 women, with the allegations ranging from groping to full-on rape, and the alleged assaults spanned decades. In July 2015, 35 of Cosby's other accusers, including celebrities like supermodel Janice Dickinson, went public with their allegations in New York Magazine. Cosby at the time denied the allegations via a legal representative, and in a 2014 statement called the accusations "decade-old, discredited allegations."
Several of Cosby's accusers were at the courthouse on Sept. 25 to hear the sentence read, among them Constand herself, Dickinson, and more, per CNN. Though Constand herself chose not to speak, she did submit a victim impact statement, which judges may consider when determining the sentence. She wrote of both her state of mind after the assault as well as Cosby's other alleged victims, saying,
The shame was overwhelming. Self-doubt and confusion kept me from turning to my family or friends as I normally did. I felt completely alone, unable to trust anyone, including myself.
She added in reference to Cosby's other accusers,
We may never know the full extent of his double life as a sexual predator but his decades-long reign of terror as a serial rapist is over.
What's next for Cosby? In the immediate future, prison. It remains to be seen what an appeal might bring.