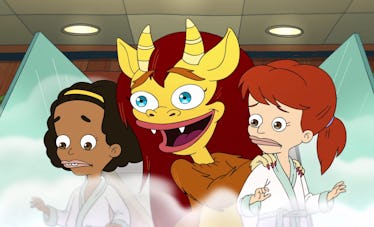 'Big Mouth' Has Been Renewed For Season 3, So More Pubescent Awkwardness Is Coming Soon
Netflix
The hormonal shenanigans are going to keep on coming, because Netflix has officially renewed its puberty-centric animated comedy Big Mouth for a third season. The series just recently aired its second season, and now fans of the show have even more biological awkwardness and surprisingly poignant characterizations to look forward to, because Big Mouth Season 3 is coming to Netflix soon.
Big Mouth revealed its third season pick-up on Twitter over the weekend by posting a celebratory video of clips from its recent second season. The video reveals that Netflix has renewed the series for another new season, which will premiere at some point in 2019. The clip also promises that "puberty gets even messier" in the show's upcoming third season... as if the animated series had not already gotten messy enough in its first two seasons. The Season 3 announcement comes about a month and a half after Big Mouth Season 2 was released in full on Netflix on Oct. 5. There are no new details about Season 3 yet, but if it follows a similar pattern to Seasons 1 and 2 then it will consist of ten episodes and premiere around late September or early October in 2019.
Check out Big Mouth's Season 3 announcement video below:
While Big Mouth may have just seemed like a silly, crude romp in the awkwardness of puberty at first, the series has quickly developed its characters and storylines into a surprisingly gripping plot. After the final moments of Season 2, Big Mouth Season 3 actually has some cliffhanger-y changes and an expanded universe to explore.
Spoiler alert: Stop here if you have not watched the Big Mouth Season 2 finale. The final episode of Season 2 saw Andrew and Nick crossing dimensions to visit the Department of Puberty, an office building where the Hormone Monsters all work. This is a pretty big shift from every other episode in the series, which are all set in the human world with the Hormone Monsters Maurice, Connie, and a few others popping up to encourage the kids' pubescent urges. In the episode, Andrew and Nick manage to rescue Jessi from the clutches of a scary new threat, the Depression Kitty. But the big surprise occurs back in the human world, when Nick discovers that his newly assigned Hormone Monstress is Connie, the same monster that has been working with Jessi all this time.
So, what could these changes mean for the third season? Well, hopefully we will get to explore some more of the strange alternate dimension that the Hormone Monsters live in, and possibly see more of the Shame Wizard, Depression Kitty, or another new creature that will wreak havoc on the kids. It will also be interesting to see how Nick develops with the Hormone Monstress at his side rather than the two completely unhelpful Hormone Monsters he was saddled with throughout Season 2.
Netflix has not yet set an official premiere date for Big Mouth Season 3, but look for the new season to drop in the fall of 2019.