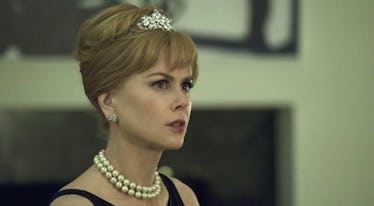 'Big Little Lies' Is Getting A New Character & It Could Mean Big Things For Celeste
HBO
After sweeping the Golden Globes on Sunday night, fans are more excited about the upcoming second season of Big Little Lies than ever. For a while, nobody even knew that there would be another season of the HBO hit miniseries, but now we know that more delicious drama in Monterey is on its way, and some details about the new season are starting to be revealed. One juicy little tidbit that was just revealed is that a new character in Season 2 of Big Little Lies will be stirring up all kinds of drama when she arrives in Monterey.
Big Little Lies was the big winner among TV shows at the Golden Globes on Sunday night, taking home more trophies than any other series and winning every category it was nominated in, including Best Miniseries or Television Film and acting awards for its stars Nicole Kidman, Alexander Skarsgård, and Laura Dern. After cleaning up at the ceremony, Big Little Lies director Jean-Marc Vallée spilled on the major new character who will be appearing in the second season of the show: Perry's mom!
Well there's a new character coming... Perry's mother, that's all I can say.
If you have seen Big Little Lies, then you already know just how major the arrival of Perry's mother will be in Season 2. At the end of Season 1, viewers watched as Bonnie (Zoë Kravitz) pushed Perry (Alexander Skarsgård) down a flight of stairs, killing the abusive husband. Throughout the first season, we saw a lot of Perry's abusive relationship with his wife Celeste (Nicole Kidman), but never got any details on his family. Now that his mom is coming to town after her son's murder, it sounds like we are going to be learning a lot more about Perry's upbringing, and the Monterey moms may find a new adversary as they continue to try to cover up Bonnie's murder.
And Perry's mom isn't the only previously unseen parent coming into the mix for Season 2 — Bonnie's parents will also show up. In Liane Moriarty's 2014 novel of the same name, much more attention is given to the fact that Bonnie had survived abuse at the hands of her parents, which became a motivator in her killing of Perry. With her parents finally appearing next season, it sounds like viewers are going to be learning about that background info.
Although Season 1 director Jean-Marc Vallée is the one who spilled the detail about Perry's mom, Vallée is actually not returning to Big Little Lies for its second season. Back when the first season was wrapping up, Vallée said that he didn't think doing a second season of the show was a good idea. He later changed his tune when Big Little Lies Season 2 got picked up, but had already committed to directing the HBO adaptation of Gillian Flynn's Sharp Objects. In place of Vallée, filmmaker Andrea Arnold will be directing the new season. Arnold has most recently worked on Jill Soloway shows, directing episodes of Transparent and I Love Dick, and released her film drama American Honey starring Shia LaBeouf in 2016.
Season 2 of Big Little Lies will consist of seven episodes, the same amount as its first season. There's still no word on when it will premiere. Although the renewal was exciting for fans of the show, it created a bit of a categorical controversy this awards season. Since it was initially billed as a miniseries, BLL was up for Limited Series categories in the Emmys and Golden Globes, managing to sweep them both. But now that a second season is coming, some people are arguing that the show should really have been in the traditional Drama category, which would have put it against more diverse competition. We will have to see how the show is categorized next year, I guess.
Big Little Lies Season 2 will likely land on HBO sometime in 2018.