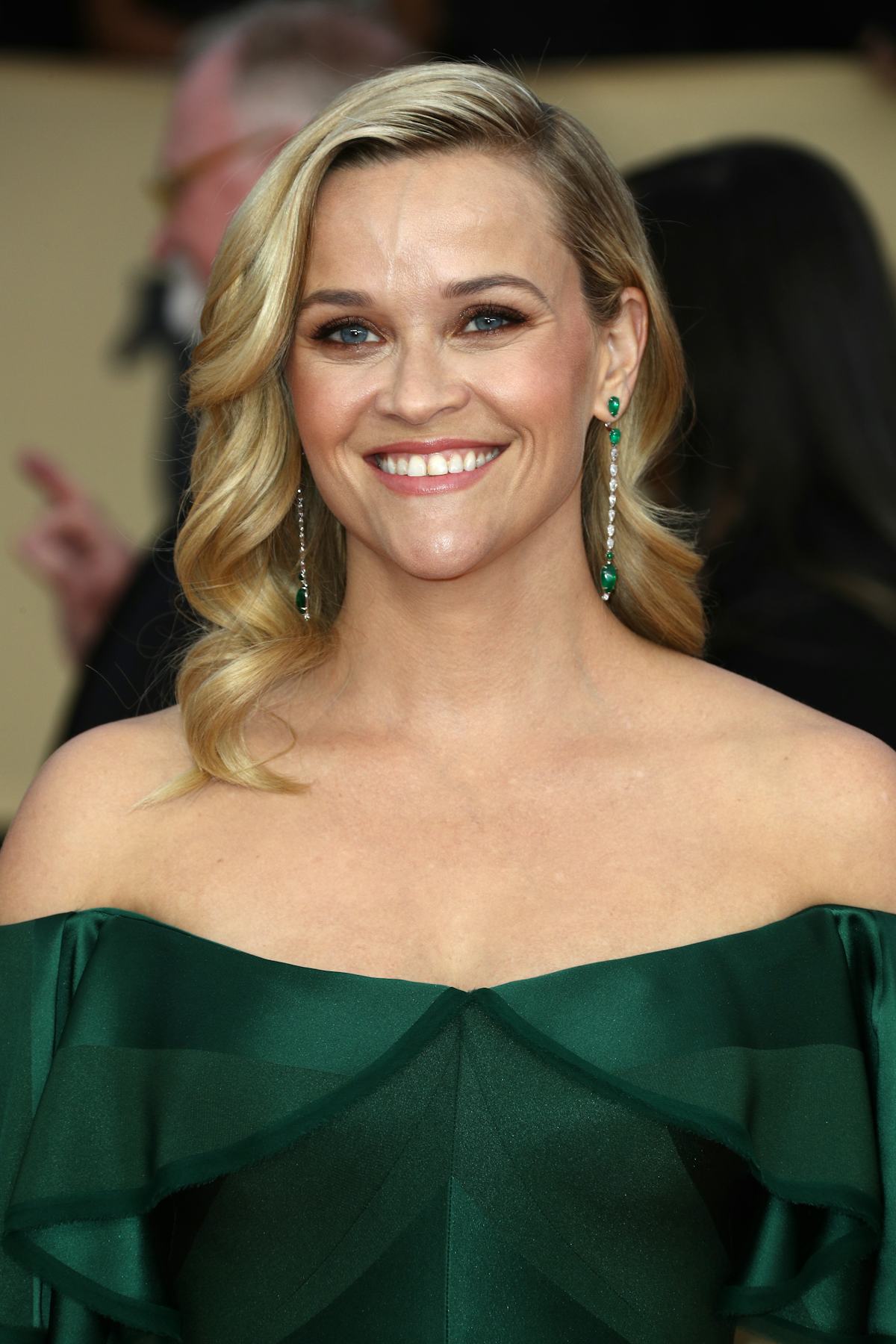 The 'Big Little Lies' Cast Absolutely Slayed The SAG Awards Red Carpet, No Lie
Frederick M. Brown/Getty Images Entertainment/Getty Images
Much of 2018 so far has been about female empowerment, so it is fitting that Big Little Lies, a show with an all-female lead cast, is one of the biggest names in awards season so far. The Big Little Lies cast 2018 SAG Awards red carpet looks are just as hot as the show itself.
The all-female lead cast of HBO's hit show, Big Little Lies, includes stars such as Reese Witherspoon, Nicole Kidman, Shailene Woodley, Zoë Kravitz, and Laura Dern. The series was adapted from a book of the same name, written by Liane Moriarty. The show was nominated for six 2018 Golden Globes, won four of those nominations, and is up for an equally astounding four wins at the 2018 SAG Awards. Three of these potential wins are in a single category, Outstanding Performance by a Female Actor in a Miniseries or Television Movie, with Witherspoon, Kidman, and Dern each receiving the nomination. Talk about girl power.
The cast won big at the Golden Globes and will likely do well at the SAG Awards as well, but win or lose, the gals of the show have already won my heart where it matters most, on the red carpet.
Witherspoon, who plays Madeline Mackenzie, chose a green-on-green striped dress. The off-the-shoulder gown is by celebrity-loved designer Zac Posen. Witherspoon also rocked Jimmy Choo heels, although they are unfortunately not seen from underneath her dress here.
"#SAGAwards here I come!! ✨ 👗 @Zac_Posen; Jewels: @Gismondi1754; 👠 @jimmychoo; 👛 @tyleralexandra; Hair: @LonaVigi; Make-up: Kelsey Deenihan; Styling: Petra Flannery, Victoria Kob; 💅 Thuy Nguyen," Witherspoon Tweeted. This pre-red carpet photo gives a look at the actress' view while she got ready for show.
Witherspoon's Gismondi earrings are to die for. She's so on trend here with her oversized earrings, too.
Kidman posted an Instagram photo before the show to give credit to all the components of her look, and she sparkled bright like a diamond in her Armani gown. The actress, who plays Celeste Wright, wore an iridescent, sequined column gown, featuring a sculptural statement detail at the neck.
The detail on those sequins is mesmerizing, but I'm actually more distracted by Kidman's insane Harry Winston earrings. Add in her red lip, and those ocean blue eyes, and I'm done.
Dern is Hollywood's underrated girl next door. She's rocking an ultra-messy ponytail, a dress that actually looks comfortable, and jewelry that doesn't look like it would require its own security guard (yes, that's a thing).
Just gorgeous. The woven detailing on Dern's Dior dress is also beautiful.
Look at that epic messy ponytail. My hair looks very similar right now so I'm here for it.
"Who's ready for the SAG Awards? #sagawards #biglittlelies," Dern even shared a photo of herself in a full face mask before the event, she's as real as they come.
Alexander Skarsgård is one of the male cast members of Big Little Lies — he plays Kidman's husband — and while his character on the show is an abusive villain, he is winning me over in real life with this navy blue tuxedo.
Back to the ladies though, let's just look at some more photos of these stunners on the red carpet, shall we? What do you think they're talking about? I must know!
More secret, celeb conversations that I will never be privy to. Sigh...
That is the face of one confident lady!
Whatchu laughing about, Reese?
Neither Zoë Kravitz nor Shailene Woodley made an appearance on the SAG Awards red carpet, but this photo of Dern and Witherspoon together (almost) makes up for it. This gives me hope that the Big Little Lies ladies are BFFs IRL.