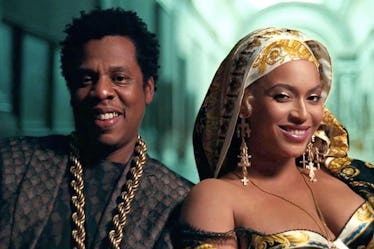 Beyoncé Just Shared A New Photo Of Sir & Rumi Laughing That Will Fill You With So Much Joy
YouTube
On July 14, 2017 (aka my birthday), Beyoncé Giselle Knowles Carter gifted me with the greatest gift of all: the first photo of her and JAY-Z's twins, Rumi and Sir Carter. Fast-forward one year to July 26, 2018, and Beyoncé's birthday gift to me came a little late, but that's OK. She's busy! Beyoncé's photo of Sir and Rumi Carter laughing is the purest, precious thing on the internet today. The most precious, do you hear me?! Queen Bey posted the sweet photo of her and her 1-year-old twins to her website on July 26, and I would like to issue a formal thank you to the queen.
Beyoncé and JAY-Z's On The Run II world tour has ended its European leg and has made its way to the U.S., but the family of five took a short European vacation on a yacht before returning to the states. It was this vacation that produced the adorable photo of the twins, as well as some iconic photos of Blue Ivy that I'm sure have already been turned into memes.
Beyoncé smiles with Rumi and Sir on her lap in the sweet photo. Rumi is laughing at something off-camera, and Sir seems deep in thought about something very important.
How cute can those little angels get!
Beyoncé also shared this photo of JAY-Z holding Rumi's hand, and Rumi just singlehandedly made ruffles popular again. Just look at that ruffle butt!!
Fans are sobbing over these adorable photos of the Carters.
But let's not forget about the OG, Miss Blue Ivy Carter. The new photos of Blue Ivy that Beyoncé posted are a damn mood if I ever did see one.
Me trying to get over your bullsh*t like:
She is seriously so adorable.
I'm framing this.
My family literally just had a professional vacation photo shoot done for my grandmother's birthday and we just got upstaged by the pics Beyoncé probably took on her iPhone. Cool.
The famously private couple only allows us to see photos of their twins once in a blue moon (get it? BLUE? OK, bye), so I'm going to cherish these pictures until 2019 — the likely next time we'll see new photos of the Carter twins. JAY-Z opened up about life with Rumi and Sir in an interview with CNN's Van Jones on The Van Jones Show back in January. He raved,
We are in a beautiful time now because they are seven months and they can't move. They can just coo … they just coo and you don't have to 'wait, wait, wait, wait.' You know, they're not running anywhere yet. We are going to enjoy these couple of months until they start running, and then it's over.
The babies are clearly standing now, as seen in Beyoncé's photos, so that "beautiful time" where the babies just cooed and didn't run around is officially over. But seeing as Beyoncé and JAY-Z have taken all three of their kids on tour with them, Rumi and Sir will definitely have a lot of things to keep them occupied while mom and dad perform.