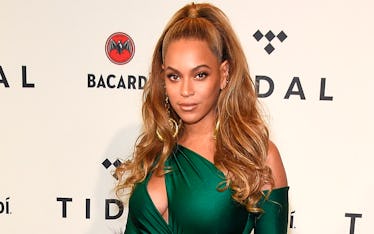 Beyoncé Dethroned Taylor Swift For This Major Honor In Music, Thanks To 'Lemonade'
As if we didn't already know Blue, Rumi, and Sir Carter wouldn't have to worry about taking out any student loans if/when they go to college, Beyoncé is the highest-paid woman in music in 2017, so they really have nothing to worry about. The title of highest-paid woman in music was previously held by Taylor Swift following her 1989 Tour and a handful of endorsements, but Lemonade and the Formation World Tour put Beyoncé above the rest at $105 million, according to Forbes. The Formation World Tour grossed more than $250 million, and the sales from Lemonade, along with her Ivy Park athleisure line and her and JAY-Z's stock in Tidal, helped her reach the highest-paid woman in music mark. According to Forbes, Beyoncé and JAY-Z are worth $1.16 billion together. So yeah, Blue, Rumi, and Sir are going to be just fine.
And Beyoncé isn't just the highest-paid woman in music, guys. She's the highest-paid woman in music by a massive margin. Adele came in second behind Queen Bey at $69 million, and Taylor Swift came in third at $44 million. Taylor Swift was the highest-paid woman in music in 2016 after earning $170 million thanks to the 1989 Tour. Forbes gathered this information by looking at the pre-tax incomes of the women in the music industry from June 2016 to June 2017.
Céline Dion came if fourth at $42 million, Jennifer Lopez came in fifth at $38 million thanks to her brief residency in Las Vegas, and Dolly Parton came in just behind her at $37 million. Other women on the list include Katy Perry in ninth place and Barbra Streisand in tenth (her Netflix special that is available Nov. 22 probably helped a lot with that). Stars like Lady Gaga, Madonna, Ariana Grande, and Selena Gomez surprisingly didn't make the list, but considering Lady Gaga is currently on tour and Ariana Grande recently wrapped up her Dangerous Woman World Tour, they'll probably make it on to next year's list.
Beyoncé and Adele had the biggest albums in pop culture in 2016, and they have the Grammys to prove it (although we all know who Adele thinks should've won Album of the Year). At the 2017 Grammys, people were shocked when Adele took home the Grammy for Album of the Year for 25. It was her first album since her wildly successful 21 released in 2011 and her first since having her first child. It was a comeback to remember, as she pretty much disappeared from the public eye for the majority of her years away from music. Before the release of Lemonade in April 2016, Beyoncé had released her iconic surprise album, Beyoncé, in December 2013. She lost Album of the Year at the Grammys that year to Beck, and then lost Album of the Year again to Adele at the 2017 Grammys. This year, Adele took the stage and basically said, "Hey, thanks for this award and everything, but this belongs to Beyoncé and y'all know it's true." The internet agreed. We love Adele, don't get us wrong, but Lemonade was a damn movement.
But I can't possibly accept this award. I'm very humbled and I'm very grateful and gracious. But my artist of my life is Beyoncé. And this album to me, the Lemonade album, is just so monumental. Beyoncé, it's so monumental. And so well thought out, and so beautiful and soul-baring and we all got to see another side to you that you don't always let us see. And we appreciate that. And all us artists here adore you. You are our light. And the way that you make me and my friends feel, the way you make my black friends feel, is empowering. And you make them stand up for themselves. And I love you. I always have and I always will. Grammys, I appreciate it. The academy, I love you. My manager, my husband and my son. You're the only reason I do it. Thank you so much. Thank you very much to everybody.
Something tells me Beyoncé — the highest-paid woman in music — is doing just fine now. Bow down, b*tches.