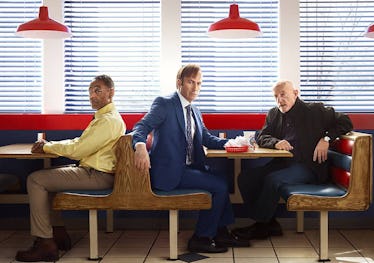 'Better Call Saul' Season 3 Is Now On Netflix, So 'Breaking Bad' Fans Should Start Celebrating
Robert Trachtenberg/AMC/Sony Pictures Television
When Better Call Saul premiered, it promised to be a prequel that would set up the Breaking Bad universe. Three seasons later, Better Call Saul is doing so much more than just foreshadowing the events of its sister show: It's established itself as a nuanced character study of Jimmy McGill, the man who eventually becomes Saul Goodman, Walter White's sleazy lawyer. The AMC drama is definitely the best show you're not watching, and now, Better Call Saul Season 3 is on Netflix, so Breaking Bad fans have no reason not to start binge watching immediately.
If you're not caught up on the legal drama (that's a loose term — Better Call Saul is nothing like Suits or The Good Wife), here's a quick refresher. The show follows Jimmy McGill (Bob Odenkirk) as he attempts to survive as a lawyer in Albuquerque, New Mexico. "Survive" is definitely the most important word here: Jimmy's brother Chuck (Michael McKean) does pretty much everything he can to sabotage Jimmy's career, leaving the youngest McGill sibling with no money to his name. As Jimmy schemes his way into collecting lawyer's fees, he meets a former Philadelphia police officer named Mike Ehrmantraut (Jonathan Banks) who just moved to the area. Yes, that Mike Ehrmantraut — how many Ehrmantrauts can there be in the ABQ?
Throughout Seasons 1 and 2, we see Jimmy toe the line between right and wrong, mostly because he's just not satisfied with doing things the safe way. Jimmy is by no means a bad guy, he just craves the adrenaline rush of risking it all for a big reward. Long before he's turned into Saul Goodman, he's just a guy who lives for the thrill of the chase, even if it often puts his girlfriend, Kim (the amazing Rhea Seehorn), at risk.
If you're looking for more of a post-Breaking Bad story than a prequel, Better Call Saul has you covered, as well. The beginning of each season focuses on a Cinnabon manager named "Gene" — the identity Saul assumes after the events of the Breaking Bad finale. Gene may be safe from the drug dealers hunting him down, but he's by no means happy: he spends his nights drinking and watching Saul Goodman's old commercials. Generally, Gene's story is confined to just a few scenes, but this is creator Vince Gilligan's world, so everything has to connect. Eventually, Gene's story line will have to end, as well, giving Breaking Bad fans a second ending to the story.
There are definitely Breaking Bad easter eggs in the first two seasons of Better Call Saul — Mike is a major one, as well as Hector Salamanca (without a wheelchair) and the beginnings of Los Pollos Hermanos — things really get going in the Breaking Bad universe in Season 3. The one and only Gustavo Fring (Giancarlo Esposito) plays a major role in Season 3, and fans will see the early stages of his criminal enterprise, as well as how he came to know both Mike and Jimmy. Plus, the Tuco-Hector story line develops even further, and we're introduced to Krazy-8, who ends up becoming Walt's first victim in Season 1 of Breaking Bad.
But most importantly, Season 3 of Better Call Saul sees the transition from Jimmy McGill to Saul Goodman. This happens slower than you'd think: The series made us wait until Season 3 to even meet the titular "Saul," so Gilligan is clearly in no hurry to get us to the events of Breaking Bad. In Season 3, the Saul we meet hasn't quite sunk as low as Breaking Bad's version, but he's getting there — he makes an elderly woman cry! — and it's so much fun to see him fall.
If you're a Breaking Bad fan who's been sleeping on Better Call Saul, it's time to wake up. Breaking Bad was definitely intense, but it lacks the non-stop fun of Better Call Saul. That's not to say that one is better than the other, just that they're different, but regardless, if you love Breaking Bad, you'll love BCS. And now that Season 3 of Better Call Saul is available to stream on Netflix, you can get totally caught up before the fourth season premieres on AMC sometime this fall.