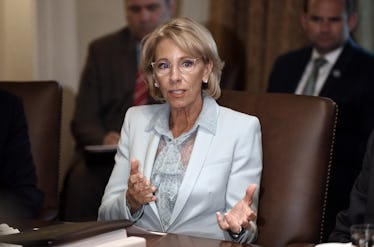 Betsy DeVos Wants To Cut These Student Debt Relief Plans, & Here's What You Can Do
Pool/Getty Images News/Getty Images
With everything that's been going on in the Trump administration, the student debt crisis can almost feel like a side note. But for everyone struggling with student loans, well — your lenders never forget, and neither do you. Which is why it might feel kind of alarming to find out that Secretary of Education Betsy DeVos is planning to cut back loan forgiveness rules for students who have been victims of fraudulent and for-profit colleges.
The New York Times reported on July 25 that DeVos had proposed replacing Obama-era policies that forgave the loans of students who had been left with enormous debt by for-profit colleges which drew in students with false advertising. The Obama administration regulations were written after two for-profit colleges, Corinthian Colleges and ITT Technical Institute, both collapsed in 2015 and 2016, and were intended to go into effect in July 2017 — until DeVos blocked them, a month before they would have taken effect.
Now, the Department of Education wants students to prove that their schools intended to mislead them with false advertising, or that their loans have left them in "financial distress," a much stricter requirement than under the Obama-era rules. The new proposal would also create a federal standard for what counts as misrepresentation, and require that schools show "reckless disregard." The proposal would also allow schools to require students to agree to arbitration which prevent them from suing, which the Obama regulations banned.
The new proposal, which would go into effect in July of 2019, would cut a solid $13 billion in debt relief, per ABC News, and most of that would come by reducing the amount of money awarded to students.
"Our commitment and our focus has been and remains on protecting students from fraud," DeVos said in a statement.
Unsurprisingly, DeVos' proposal is already getting slammed by student advocates for siding with the for-profit colleges over students in debt, with some experts calling it "nearly impossible" for students to access debt relief. "These changes would effectively strip students of their right to recourse if they believe that a college or university has misled them," said Bob Shireman, a senior fellow with progressive think tank The Century Foundation.
"It encourages abusive and predatory institutions to continue to rip off students with impunity, while slamming the door on the debt relief that Congress has instructed the department to provide to cheated students," Toby Merrill, director of the Project on Predatory Student Lending at Harvard University, told ABC News.
But this isn't done yet — you can still weigh in and let the Department of Ed. know what you're thinking. The new policy is required to undergo a comment period in which the public can offer their thoughts on what the proposal contains, and you can submit your thoughts either via snail mail to JeanDidier Gaina, U.S. Department of Education, 400 Maryland Ave., S.W., Mail Stop 294-20, Washington, DC 20202; or submit comments via the Federal eRulemaking Portal.
It's not the most surprising move from DeVos' Department of Ed., though. The department under the Trump administration has come under fire for its support for for-profit schools, even hiring former leaders of the for-profit education industry. In August 2017, the Department hired Julian Schmoke Jr., who was previously the dean at DeVry University — a school which in 2016 agreed to pay out $100 million to settle a lawsuit by the Federal Trade Commission (FTC) that it had misled students about job and salary outlooks.
So this proposal? Just about normal for this Department of Education. In the meantime, maybe it's about time to finish up that email to your student loan company, and start drafting one to DeVos.