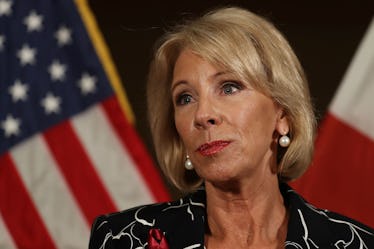 Betsy DeVos' Response To Her Trainwreck '60 Minutes' Interview Is Laughably Bad
Joe Raedle/Getty Images News/Getty Images
President Donald Trump has nominated a handful of controversial candidates for his White House cabinet — and one of the more divisive choices he's made was picking Betsy DeVos as his education secretary. Having zero experience in education prior to her confirmation to her position, you'd think that over the past 13 months DeVos would have learned a thing or two. But as her disastrous recent interview on CBS shows, this education secretary still doesn't have a clue. And Betsy DeVos' response to her 60 Minutes interview is seriously a joke.
On March 11 DeVos appeared on 60 Minutes to sit down with Lesley Stahl and discuss what the current state of all things education is right now. The two touched on a multitude of subjects — from gun control as related to school safety, to sexual assault on campus, to the current state of the public school system. And in short, the interview was terrible.
DeVos struggled to answer basic questions concerning public schools in her home state of Michigan and overall fell flat in the widely criticized interview. Even the White House is reportedly not pleased with her performance, according to CNN. And so in an apparent effort to redeem herself as best as she could, the education secretary took to Twitter on March 12 and pointed out what she says the program omitted during the broadcast of the interview.
DeVos tweeted in her defense that 60 Minutes did not include a set of public school comprehension statistics she had shared.
DeVos tweeted that 60 Minutes "didn't show you" that she shared statistics of 4th grade reading and math scores in Michigan vs. all national public schools from 1992 through to 2015. "Scores are stagnant. Students need more options, and we must rethink our approach to education," she said. But the problem with this defense that she's giving here is that this still doesn't answer the the question of why are schools are not performing as well as they should be — something DeVos failed to answer in her interview.
When asked if public schools were underperforming in DeVos' home state of Michigan, DeVos fell short and could not articulate a proper answer. Stahl posed the very simple question, "Have the public schools in Michigan gotten better?" And all DeVos could muster up to say was, "I don't know. Overall, I — I can't say overall that they have all gotten better." She added later on in the interview, "Michigan schools need to do better. There is no doubt about it." But when asked if she has visited schools that are in bad shape, DeVos stated,
I have not, I have not, I have not intentionally visited schools that are underperforming.
If this education secretary is not actually going to the schools that aren't doing well, how can she expect to find a solution to this problem? It's clear that public school reading and math comprehension levels are not where they should be, so there is no need to tweet out the obvious. What the public wants to hear from DeVos is how she plans to fix this issue.
DeVos followed up her first defensive tweet with a second one, claiming that 60 Minutes also didn't mention that charter school students in Detroit are performing better than those in public schools.
In this tweet, DeVos highlighted a portion of an article that she linked from Michigan Radio that states charter school students are testing better than public school students in the state's capital. She adds in the tweet, "students at charter schools in Detroit are doing 2x better than their peers. The reforms are helping, but there's so much more to do."
The problem with her argument here is that if you read the rest of the unhighlighted portion, the article clearly states that both types of schools are still scoring extremely low. In fact, if you click on the article link the title of that post is, "Test scores at Detroit charter schools twice as high as city's public schools, but both are bad." Just because charter school English proficiency is at 23.6 percent compared to public schools' 10.6 percent doesn't mean that the charter school system is working. There is clearly an overarching problem here that DeVos has not realized yet.
Her agenda as education secretary has been to expand charter schools (which are publicly funded but privately operated) and promote school choice in public education. So it's for this reason why it seems that DeVos has clung to this one detail about charter schools vs. public schools in Detroit and used it in her defense.
But just because DeVos knows that there is a problem with the current K-12 public school system in this country, and can prove that in one city in the United States that charter schools are performing slightly better than public schools, doesn't display that she is equipped to do the job of analyzing and fixing these problems. The way DeVos handled her interview and this Twitter defense that she seemingly thinks will negate at least some of the bad press she's getting is not doing her any favors.