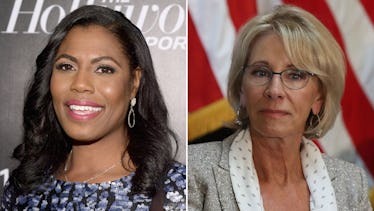 Betsy DeVos Allegedly Said Black Students Don't Have The "Capacity To Understand" Her Agenda
Mark Wilson/Getty Images News/Getty Images/Ben Gabbe/Getty Images Entertainment/Getty Images
The drama surrounding the White House continues to unfold with the release of Omarosa Manigault's tell-all book, Unhinged, which dropped on Aug. 14. The pages are filled with allegations about President Donald Trump and members of his staff, and the latest claim ranks up there with the worst of them. According to Omarosa, Education Secretary Betsy DeVos allegedly said black students don't have the "capacity to understand" her agenda. DeVos has since denied the claim
According to Manigault's book, DeVos allegedly said that she was booed off stage at Bethune-Cookman University, a historically black college, in May 2017 because black students lacked the ability to understand her agenda and goals. "They don't have the capacity to understand what we're trying to accomplish," DeVos allegedly said after the incident.
According to Politico, Manigault explained DeVos's comment as "meaning, all those black students were too stupid to understand her agenda." Manigault also called the education secretary "woefully inadequate and not equipped for her job," according to Politico. DeVos has denied the claims, with her press secretary, Liz Hill, telling Elite Daily in an emailed statement that Manigault is just "peddling lies for profit." Hill said,
This disgraced former White House employee is peddling lies for profit. The book is a joke as are the false claims she's making about Secretary DeVos.
Either way, the students might have been reacting to DeVos' words on historically black colleges and universities (HBCUs). In February 2017, the education secretary claimed HBCUs were pioneers of school choice — a program that uses public funds to support alternative options to public schools — while failing to notice that actually HBCUs were created to serve black students who were prevented from attending other schools. As Time notes, many schools were created during Jim Crow segregation following the Civil War, when the 1896 Supreme Court case Plessy v. Ferguson codified racial segregation in public institutions and forced black students to attend separate schools.
But DeVos and her press secretary aren't the only ones pushing back at Manigault. Unhinged makes quite a few allegations that, if true, could be detrimental to the presidency — the biggest of which is that there are allegedly tapes of Trump using the N-word. Trump has denied the claim, saying the word wasn't "in [his] vocabulary" and even took to Twitter to call Manigault out on her tell-all. On August 13, the president sent out a series of tweets calling his former aide "wacky," "vicious," "not smart," a "lowlife," and the list goes on.
The next day, Trump even went as far as to call Manigault a "dog" on Twitter. He wrote,
When you give a crazed, crying lowlife a break, and give her a job at the White House, I guess it just didn't work out. Good work by General Kelly for quickly firing that dog!
While the president is clearly doubling down on trying to delegitimize Manigault's claims, his press secretary veered away from that narrative a bit during Tuesday, Aug. 14's press conference. According to The Washington Post, Sarah Huckabee Sanders said she "can't guarantee" there are no tapes of the president using the N-word per Manigault's claim. "Look, I haven't been in every single room," she said. It's a claim that definitely doesn't go to the mats in terms of vouching for Trump.
Whether Manigault's claims have any truth to them has yet to be confirmed, but in the meantime, her words are sure causing the White House to become a bit... unhinged.