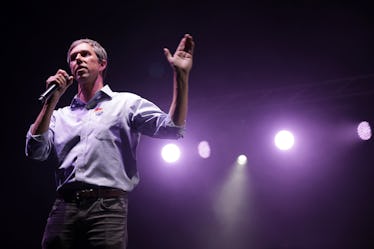 Beto O'Rouke Reportedly Met With President Obama, Which Might Mean Something Major
Chip Somodevilla/Getty Images News/Getty Images
The 2018 November midterms was historic for many reasons, but perhaps one of the biggest was that we were introduced to new (and influential) players in the political game. He may have lost his bid in the U.S. Senate race in Texas, but this Democratic candidate has made waves across the world, and Beto O'Rourke's reported meeting with President Obama could mean that he's going to push that momentum into 2020 with a potential presidential run. Can 2019 hurry up and be over already?
According to The Washington Post, Beto O'Rourke met with President Barack Obama on Nov. 16 at the former president's Washington, D.C. offices in Foggy Bottom. Even though nothing has been disclosed about what exactly was discussed during their meeting, it could be something major. Following his U.S. Senate loss, the public (including politicians) started discussing the possibility of O'Rourke running Trump's opponent in the 2020 election. President Obama's former aides reportedly have encouraged the Democratic candidate to run in the next presidential election, per The Post. Well, it's safe to say that an endorsement from President Obama definitely wouldn't hurt his chances. Elite Daily reached out to both O'Rourke and Obama's teams for comment about the reported meeting, but did not hear back in time for publication.
During the 2018 midterm elections, there wasn't much interaction between O'Rourke and Obama, despite the former president publicly endorsing progressive Democrat Alexandria Ocasio-Cortez during her run to represent New York's 14th District. Well, it looks like things might be changing, and hopefully for the better.
Obama's meeting with O'Rourke could mean serious business, but the Texas Democrat isn't the only presidential possibility that Obama has met up with. According to The Post, Obama has reportedly met up with the likes of Sen. Elizabeth Warren and Sen. Bernie Sanders, who reportedly might consider running again after losing his presidential bid in 2016.
Beginning in September 2017, O'Rourke started making headlines for his progressive political stances and interesting backstory. Prior to dipping his toes in politics, O'Rourke was a successful businessman in El Paso, Texas. However, even before that, O'Rourke spent his days as a punk rocker performing with his old band Floss. Don't believe? Just watch this video of O'Rourke rocking out with his band decades ago.
Throughout his run for U.S. Senate, O'Rourke openly discussed his support for legalizing marijuana, equal access to health care, and his pro-choice stance. Despite O'Rourke's popularity among young voters, incumbent Sen. Ted Cruz eventually clinched his victory for Texas' U.S. Senate seat with 51.3 percent of the vote.
Following news that Cruz had won the election, O'Rourke delivered his concession speech on Nov. 7, thanking his family and supporters for all they've done. He also urged voters to look toward the future, and fight against the divisive political climate that's been increasing over the past few years. He said,
It is the greatness to which we aspire and the work we are willing to put into it to achieve it by which we will be known going forward. This campaign holds a very special place in the history of this country. Every day going forward. You have made that possible.
Right now, 2020 seems a long time away. However, I have no doubt that election season will be here before we know it.