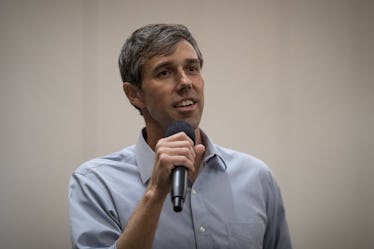 Twitter Is Reeling Over Beto O'Rourke's Loss To Ted Cruz In The Midterms
Loren Elliott/Getty Images News/Getty Images
In a election cycle full of drama, upsets, and viral moments, perhaps one of the biggest names to emerge in 2018 was Beto O'Rourke. The underdog for the U.S. Senate seat went viral for his defense of kneeling National Football League (NFL) players, and then his head-to-head battle against incumbent Sen. Ted Cruz was all anyone could talk about. It looks like it unfortunately didn't pay off because he lost his senate seat, and these tweets about Beto O'Rourke's loss to Ted Cruz in the 2018 midterms show people are really disappointed.
Leading up to the election, O'Rourke and Cruz were in an unusually tight race in the traditionally red state. The day before the election, statistics site FiveThirtyEight gave Cruz a predicted 51 percent of the vote, with O'Rourke predicted to take in 47 percent. Texas has voted for the Republican candidate in every one of the last 10 presidential elections, and the state hasn't elected a Democratic senator in 30 years. Cruz, the junior senator, was elected in 2012. And it looks like that prediction was spot on — O'Rourke and Cruz were neck-in-neck as votes came in, and The New York Times showed Cruz with 51.3 percent of the vote and O'Rourke with 48.1 as of 10:41 p.m. on Nov. 6.
People on Twitter were quick to show their emotion over the race.
In August, O'Rourke went viral after a video of him defending NFL players who chose to kneel during the national anthem hit the internet. The protests, started by former 49ers quarterback Colin Kaepernick in 2016, have become a political talking point with the protests condemned by no less than President Donald Trump. During a town hall meeting in August, O'Rourke was asked to comment on players kneeling during the national anthem as protest against police brutality. "They're frustrated," he said and noted that political leaders had failed to address the issue. He continued,
Peaceful non-violent protests including taking a knee at a football game to point out that black men, unarmed, black teenagers, unarmed and black children, unarmed, are being killed at a frightening level right now including by members of law enforcement without accountability and without justice. And this problem — as grave as it is — is not going to fix itself ... And they're frustrated, frankly, with people like me and those in positions of public trust and power, who have been unable to resolve this or bring justice for what has been done and to stop it from continuing to happen in this country.
O'Rourke went onto to say that given what's going on and the players' frustration over it, there's "nothing more American" than carrying out a peaceful protest to call the nation's attention to some dark spot in our society. He said,
Non-violently, peacefully, while the eyes of this country are watching these games, they take a knee to bring our attention and our focus to this problem to ensure that we fix it. That is why they are doing it. And I can think of nothing more American than to peacefully stand up, or take a knee, for your rights, any time, anywhere, in any place.
O'Rourke's take on the NFL protests made him go viral and, according to TIME, drew in huge rally crowds and campaign funds. However, leading up to the Nov. 6 elections, he was still trailing ten points behind Cruz in an Oct. 30 poll — compared to Cruz's four-point lead in September polls, according to The Hill. Despite Cruz's sizable lead, the support for O'Rourke brought a historic number of voters under the age of 30 — five times more than 2014, according to TIME.
Regardless of O'Rourke's loss, his campaign alone clearly had an effect on voters in Texas, and 44 million video views on his NFL comments say his effect wasn't bound just to Texas.