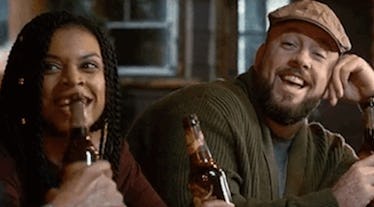 Beth & Toby Will Get Their Own Episodes On 'This Is Us' Season 3, So Get Your Tissues Now
NBC
It's time for two fan-favorites outside of the Big 3 to get their moments. Audiences should be pleased to know that beloved characters Beth and Toby will have major This Is Us episodes in Season 3, according to creator Dan Fogelman. Unfortunately the show's history suggests that means they'll be dealing with some serious stuff, because when has This Is Us focused on a person when everything was going right in their lives? The NBC drama is known for making watchers cry, so I doubt their plot lines will be all rainbows, sunshine, and problem-free.
"She's going to get a showcase, and it's going to be f*cking amazing," Fogelman teased regarding Beth Pearson (Susan Kelechi Watson) at a For-Your-Consideration Emmy event on Tuesday, reported by CNN. The series is set to "deep dive" into Beth's backstory — something viewers don't know much about.
"We have some stuff coming for Beth right away early in season three where you really learn about her and where she comes from and what her background is that I think is going to be really exciting for the audience," Fogelman also explained to E! News.
Does this mean we'll get to go back in time with Beth? It's about time. Fingers crossed for insight into her early college days with Randall.
In addition to a spotlight on Beth, the series will delve into Toby's background, as he struggles with a deep depression.
"You're going to be surprised what Toby and Beth were like before they entered this family," Fogelman shared, according to Entertainment Weekly.
It sounds like younger Toby will also make an appearance in the future, which should shed some serious light on who he is and what he's been through. Bring on the ever-enlgihtening flashbacks, please.
Season 3 is in the process of being penned at the moment and nothing has been filmed as of yet. But something that shockingly has been shot? Parts of the series finale. Yes, series. Fogelman also weighed on his longterm vision for its narrative, explaining:
We're pretty far along. Our writers and I are kind of to the end. We have a path for each season of the show. We've always had a plan… I don't think this show will ever — despite any success it may or may not have — will ever overstay its welcome, and we have a story to tell. And we want to do this the right way. And so we have a plan.
"I've actually already shot pieces of the final scene in the series," he revealed.
This Is Us isn't going away anytime soon — it's one of the biggest primetime success stories of the last few years. But it appears the show's conclusion is already being woven into its current narrative in a way.
Example: That whole "I'm not ready to see her" flash-forward from last season, when future Tess and older Randall discuss a mysterious "her" they dread facing. Who is her?!
"Im not going to tell you who her, but it sort of leads to the end game of our show, not the end of the season per se, but the show as a whole," Sterling K. Brown hinted at Tuesday's panel, according to TVLine. "And who you think the "her" is probably not who it is in typical Fogelman style."
So, "Her"'s identity remains a big old question mark. Maybe the show's end game is to go all futuristic sci-fi and "her" is their robot leader? Or the alien best friend they had to donate to the government. OK, This Is Us will probably stay grounded in reality outside of A.I. and the intergalactic... but hopefully whatever happens won't be too sad to watch.
Season 3 of This Is Us will premiere this fall. Get ready to explore Toby and Beth's pre-Pearson lives.