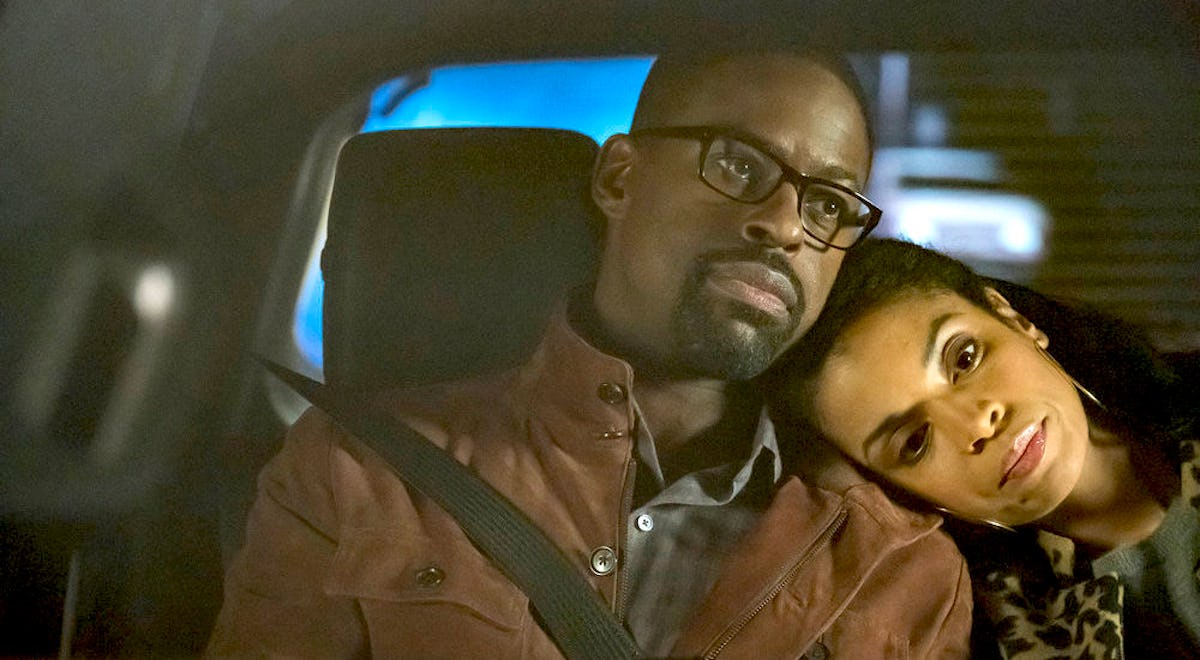 Sterling K. Brown Has A Message For 'This Is Us' Fans Who Think Randall & Beth Might Split
NBC
This Is Us fans have already gotten through the tragedy of Jack Pearson's death, but a new dread has replaced that in the recent couple of episodes. New theories have started popping up online that Randall and Beth's marriage may be heading for trouble, and those fears grew even larger after the couple's massive blowup on Tuesday night's new episode "Vegas, Baby." But all hope is not lost: Sterling K. Brown is reassuring fans that Randall and Beth are not getting divorced on This Is Us with an adorable message.
Tuesday night's new This Is Us episode was a particularly tense one for Randall and Beth, as the fan-favorite married couple ruined a weekend in Las Vegas by fighting. After their former foster child Deja stopped by their home to ask for money, Randall just could not stop worrying about her all weekend, whereas Beth was looking forward to a stress-free Vegas trip to cut loose and have some fun. Obviously, it was a recipe for disaster... which blew up after Randall made the ill-advised generalization that he is "the heart" of the relationship and Beth is "the head," since she is able to more easily "detach" from emotional situations, according to Randall. Yeah... not a good move, dude.
Although Randall and Beth are able to smooth things over after their big fight and they will presumably come together next week after finding out Deja is homeless, the friction between them underlined a depressing new fan theory that Randall and Beth are heading for divorce... or worse, that Beth might die soon. This speculation began a couple episodes ago, when we saw a flash forward to Randall as an old man, but Beth was nowhere to be seen. Even more, fans noticed that we never saw old Randall's hands, making them think that the show was hiding the fact that he wasn't wearing his wedding ring.
With the Randall and Beth divorce rumors reaching a new height after their Las Vegas fight, Sterling K. Brown tweeted out a reassuring message to fans, telling them that they should not worry about the couple because "they're going to be just fine, no matter what."
That sounds like a clear response to that divorce fan theory, and will certainly make This Is Us fans rethink things. But as we all know by now, this is a show that thrives just as much on painful tragedy as it does on warm family togetherness, and with the nearly two-season-long mystery of Jack's death finally put to rest, we can definitely expect a new major heartbreaking mystery to make itself evident soon enough. But I guess it probably won't involve Beth like everyone was assuming.
Alongside Sterling K. Brown's reassuring message about Randall and Beth's marriage, showrunner Isaac Aptaker also shot down the theory that This Is Us will show Beth's death sometime soon. In a recent interview with Glamour, Aptaker responded to those rumors by saying that the show is not teasing Beth's death:
Beth's OK ... I don't know where that came from, but there's no conspiracy.
So, I guess This Is Us fans are going to have to look to another character for the heartbreaking drama as the show moves forward. But we will probably be seeing some major new tragedy very soon, considering that there are only two episodes left in Season 2 of This Is Us. The season finale is expected to air on NBC on Tuesday, March 13. Oh, and don't worry, because NBC has already picked up a third season of the show to begin airing in the fall after this one wraps up. The crying never stops!