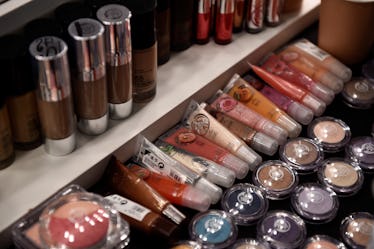 Best Cyber Monday Beauty Deals For Last Minute Shoppers Who Can't Be Tamed
Ian Gavan/Getty Images Entertainment/Getty Images
Although I thoroughly enjoyed my Thanksgiving break, I'm currently at the point of consuming leftovers that I need to stop. I'm grateful for Cyber Monday 2017 beauty deals, though, because they're actually reminding me of the lovely time I spent shopping last week. If you waited until the last minute, or are looking to polish off that last slice of pie with one last bout of online shopping, nothing goes with leftovers quite like Cyber Monday's best beauty deals.
This year, there were so many unbelievable Black Friday and Small Business Saturday deals, I thought Cyber Monday might disappoint. I definitely got some major bargains this year compared to years past. I'm not sure if it's because I was in the mood to shop, or the deals were actually better this year, but I was feeling pretty satisfied with my purchases. That is, until I saw what Cyber Monday had to offer, and now I'm right back where I started from.
As Vanessa Williams once sang, retailers went and saved the best for last. I realize Cyber Monday has always been around, but this year some companies are extending the discounts throughout this whole week. Other brands are even offering up to 70 percent off. Your bank account can hate me later, but you can thank me now, because I've rounded up the week's most worthwhile sales that are still going strong.
Known for brow products (and as the brand Oprah chose to gift her "daughters"), Anastasia Beverly Hills's Cyber Monday Deal is insane. Not only can you get 50 percent off their contour, concealer, eye shadow singles, and blush trios, but the Insta-glam brand is also offering 40 percent off glow kits, liquid lipsticks and lip gloss.
Have you been looking to update your brush collection? Sigma Beauty is now running a 35 percent off everything deal when shoppers enter the code CYBER35 at checkout. If you spend over $50, you'll receive a brush cup holder as well. Can't hit the sale tonight? Don't worry, because it runs until 9:59 a.m. EST on Nov. 29.
I'm obsessed with lip products. Although I tend to lose them and I'm completely baffled as to why, I'm a bit of a hoarder when it comes to lipsticks. You can sense my excitement that Urban Decay's Vice Lipstick, Vice Liquid Lipstick and 24/7 Glide-On Lip Pencils are currently 50 percent off until 2:59 a.m. EST on Nov. 28. It's also kinda dangerous, so send positive vibes my way please.
With up to 70 percent off makeup and tools, BH Cosmetics may be offering one of the best Cyber Monday Sales this year. If I were you, I'd definitely snag the Carli Bybel Palette + Eye Essential Brush Set ($20, bhcosmetics.com). Not only does it feature 11 gorgeous original shades, plus ten new shadows and highlighters, but you also get a seven piece brush set. Whether you need a palette while traveling this holiday season, or a quick night-out lewk, this set is ideal for a woman about town.
I'm all about the hygge life, especially during the holiday season when life is surprisingly a bit more stressful than normal. The Body Shop is indulging me by offering 50 percent off hundreds of items, like scented bath and shower gel. During a time where I'm indulging in pie, cakes, cookies, and hot chocolate, an indulgent bath might be the perfect detox to remind me to stay healthy this season.
I'm new to this beauty line, but beauty products cosigned by YouTuber Jackie Aina mean this brand has to be good. Not only is the line cruelty-free, it boasts the cutest product names and a total Black Girl Magic owner. The deals range from 35 percent-70 percent off, so if you're looking to try out a new brand, there's no time like the present.
No matter how many times I've traveled, I still always get stopped at TSA for products in my carry-on. I know they are there just to keep us safe, but having a moisturizer thrown away is totally not cool. Stowaway is here to make sure I never have my stuff confiscated again, because the entire range of products comes in sizes you can actually carry-on and finish. It's 50 percent off today, and TSA can't do a single thing about it, howboutdat?