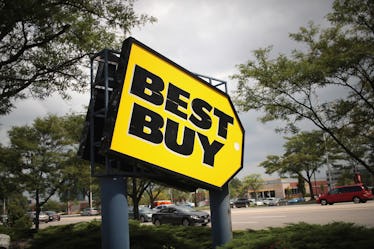 Here Are Best Buy's Sweetest Cyber Monday Deals For People Who Hate Waiting On Lines
Scott Olson/Getty Images News/Getty Images
Nothing gives me more anxiety than walking into a crowded store. So you can imagine that I stayed as far away as I could from any mall on Black Friday this year (and every year, for that matter). Luckily for me, Cyber Monday exists, and the annual digital shopping is more popular now than ever before. So if you're like me and decided to omit the Black Friday stress, you'll be happy to hear about these incredible Best Buy Cyber Monday 2017 deals. They'll make you glad that you didn't put yourself in the line of fire during Black Friday, that's for sure.
Best Buy is one of my absolute favorite stores to shop at. I never leave the place empty-handed, which I 100 percent blame on the discount DVD bin. But I don't ever want witness the madness that goes on in Best Buys on Black Friday. Just thinking about crowds clambering over flat screen TVs stresses me out more than it should. And I think it's safe to say I'm not the only one who feels that way. So the fact that the electronics superstore is offering up some seriously amazing discounts for Monday is incredibly exciting.
So prepare your bank accounts, because you'll want to shell out for this.
Cyber Monday on Best Buy's online store will begin promptly at 12 a.m. ET, according to the excitement-inducing countdown clock that's featured on their site. If you're a Best Buy member you get early access to the discounts. Since signing up is free, you might as well go for it — the site explicitly states that quantities are limited, so you're gonna want to get on this sale as early as possible.
So, what is Best Buy offering up this year? For Apple product junkies, you've got a couple of great options. For those looking for a new laptop, you can score a Macbook Pro for at least $150 less than at sticker price. A 13-inch Macbook Pro drops from $1,299.99 to $1,150, and the 15-inch drops from $2,400 to $2,150.
There are also a ton of iPad models that are getting seriously discounted. A 32GB iPad will sell for $259.99 (instead of $459.99), and a 128GB will cost you $359.99 (instead of $559.99). If you're looking to go for an iPad Pro, you have a ton of different options. For the 10.5 inch size, the 64GB iPad Pro will run for $525 (usually $649.99), the 256GB will cost $675 (usually $800), and the 512GB model will cost you $800 (usually $1,000). Almost all of the Apple products that are on sale are the latest models, too, so you're definitely scoring the best of the best.
Looking for a new gaming system? Best Buy has got you covered. The PlayStation 4 Slim 1TB will only cost you $200 (instead of $300), and the PlayStation 4 Pro 1TB is going for $400 and also comes with a free copy of Destiny 2. If you're more of an Xbox person, the Xbox One S 500GB is discounted to $190 (usually $280).
If you have some sort of vendetta against Jeff Bezos and Amazon and are looking for an alternative option to Alexa, Google Home could be a good choice for you. A Google Home Mini will sell for $30 (usually $49), and the bigger Google Home is gonna cost you $80 (usually $129).
There are also some great deals on TVs if you're looking to upgrade your entertainment system. A Sharp 32" Class LED Smart HDTV — with built in Roku TV, might I add — will go for the very low price of $150(instead of $199.99). But if you want a larger Smart TV, a LG 43-inch 4K Smart TV will cost $280 (originally $430). If you want to go even bigger, a Sharp 60-inch 4K Smart TV is a steal at $600 (originally $800).
Seriously guys, there are so many more amazing deals to find. I could spend hours clicking all over Bust Buy's Cyber Monday sale page. So if you wanna get some great products at even greater prices, I suggest you get on that site now and start adding those items to your cart.