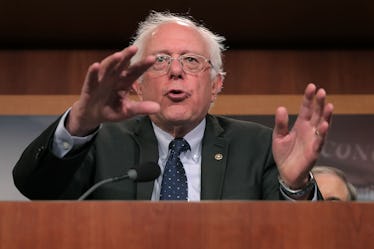 Bernie Sanders Is Speaking At The Women's March Convention & People Are Pissed
Chip Somodevilla/Getty Images News/Getty Images
On Thursday, Oct. 12, it was announced that Senator Bernie Sanders is speaking at the Women's March convention in Detroit at the end of October. The Women's Convention is being hosted by the same team behind January's Women's March and the subsequent activist work surrounding Donald Trump's presidency. While the theme of the convention is "reclaiming our time," alluding to a viral quote by Rep. Maxine Waters, many are confused as to why the organizers have decided to cede women's time to Sanders, a man whose support of reproductive rights has been spotty.
Sanders is set to give a speech on the opening night of the Women's Convention, which is supposed to be "tapping into the power of women in leadership as the fundamental, grassroots force for change" (so then I guess it makes perfect sense to tap into the power of a man in leadership).
Tamika Mallory, co-founder of the Women's March, told the Detroit Free Press that Sanders was chosen for his work in inspiring young activists. Mallory said,
I think that right now, no one can deny that Bernie Sanders is probably one of the most powerful U.S. senators ... on progressive issues, women's issues, mobilizing millennials. He is really in line with the principles of the Women's March.
Mallory said in a statement obtained by Elite Daily,
We invited many elected officials to our convention that align with the purpose and mission of our existence — to harness the political power of diverse women and their communities to create transformative social change. We are thrilled that Rep. Maxine Waters and Senator Sanders will be speaking at the Women's Convention. We all know how busy women leaders are, and we are grateful for the support of women like Secretary Clinton along with Senators Harris, Warren and Gillibrand. Although their schedules did not allow them to join us in Detroit the weekend of October 27, they will be fighting for our shared values, as they do every day. Our program features more than 60 women leading in activism, organizing and advocacy, as well as grassroots leaders running for and serving in office across the country. We are excited to come together, to unite across our differences and to fight for the future we all believe in.
Many people were less than pleased with this decision, and they took to Twitter to show it.
There are many reasons why people would be angry that Sanders was chosen for an opening night speech at the Women's Convention.
For starters, he's a white man. If this is really supposed to be about "reclaiming our time," we probably shouldn't freely be giving our time away to white men. That takes away time and a platform for women — especially women of color. It seems inherently counterintuitive.
Secondly, it dregs up the sexism stirred throughout the 2016 election, especially in the primaries when Sanders was running against Hillary Clinton. While Sanders was lauded as a progressive, Clinton was shouted down as backwards, despite them having extremely similar stances on policies (the main difference was that Clinton was supporting policies that, y'know, were possible in the real world). Not to mention, the shushing.
And then there's all the bullsh*t from Sanders on reproductive rights.
To continue bringing back old wounds, Clinton made repealing the Hyde Amendment, which restricts women's access to abortion, a major part of her campaign. Sanders, on the other hand, only came up with the same stance after Clinton got support for voicing it. And after Clinton got Planned Parenthood's endorsement in the primaries, Sanders criticized the vital women's health organization as "part of the establishment."
Right after the election last November, Sanders faced backlash for saying the Democratic party has to move beyond identity politics, and he seemingly dismissed Clinton, the first female nominee of a major political party, saying,
It's not good enough for someone to say, 'I'm a woman! Vote for me!' No, that's not good enough. What we need is a woman who has the guts to stand up to Wall Street, to the insurance companies, to the drug companies, to the fossil fuel industry.
Apparently, Sanders missed all of Clinton's detailed policy plans and long history of public service.
This inconsistent support for reproductive rights continued this year. In April, Sanders controversially supported Heath Mello, who is anti-abortion, in a Nebraska mayoral race — a move Ilyse Hogue, president of NARAL Pro-Choice America, called "politically stupid." Sanders said at the time,
We have got to appreciate where people come from, and do our best to fight for the pro-choice agenda. But I think you just can't exclude people who disagree with us on one issue.
Because as every woman knows, the right to decide what to do with her own body is just some other issue that's totally negotiable.
This is an especially hypocritical move from the Women's March considering their own non-negotiable stance on reproductive rights. One of the Women's March's stated principles is reproductive rights, including access to abortion. The organization faced criticism for this before the march in January. Linda Sarsour, a co-founder — and a Sanders surrogate during the primaries — said before the January march,
If you want to come to the march you are coming with the understanding that you respect a woman's right to choose.
To me, as someone who marched in D.C. in January and cares quite a bit about reproductive rights, Sanders' announced appearance at the Women's Convention is disappointing. While of course we need men to support women's rights, they don't need to be the voice of women's rights and progress, especially when they don't exactly have the best background in actually supporting the most basic aspects of women's rights.
I mean seriously, were no women available that night?
Editor's note: This post was updated to include the statement from Mallory and to correct who Sanders supported in the Nebraska mayoral race.