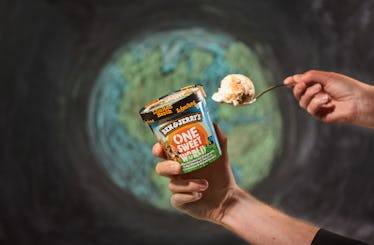 Ben & Jerry's New Ice Cream Flavor Is Here With A Sweet Name That'll Bring Everyone Together
Ben & Jerry's is at it again, creating a new, culturally relevant ice cream. On Tuesday, Oct. 17, the staple freezer aisle brand announced its latest limited batch innovation: Ben & Jerry's "One Sweet World" flavor. It's here to bring us together, because even in the most tumultuous of times under divisive leadership, most of us will still say yes to a scoop of ice cream.
Though this isn't Ben & Jerry's first go at using their pints for social good, One Sweet World — not to be confused with Ben & Jerry's "Dave Matthews Band One Sweet Whirled" flavor circa 2002 — is dedicated to championing racial justice in America. In a press release announcing the new flavor, the brand cites One Sweet World as part of their "campaign for social and economic justice." They said,
From LGBTQ rights and marriage equality, to Occupy Wall Street, Ben & Jerry's has used the power of its business to motivate its fans and promote policies that advance the cause of social justice. This commitment is as strong today as it has ever been. As part of that commitment, Ben & Jerry's will donate a portion of the sales of One Sweet World to support those working at the intersection of economic and racial justice.
And that powerful statement exemplifying Ben & Jerry's true dedication to social justice is also featured on their website, where one can find a mouth-watering description of One Sweet World.
Made with coffee caramel ice cream, fudge chunks, marshmallow swirls, and salted caramel, it's a coffee lover's dream.
Naturally, it has received glowing reviews from people wanting it to stay for-ev-er. "This is the best ice cream I've ever had," one customer, who gave it five stars, wrote, "and I've tried a lot. I hope this becomes a permanent flavor and not just for a limited time." Another expressed similar sentiments, writing, "I just got this flavor and I already finished it!! It was delicious!! My new favorite flavor!!"
Beyond the tastiness one can expect from "One Sweet World", Ben & Jerry's also has a link to a "Dig Deeper" page on their website, which further explains the ice cream brand's dedication to combatting systemic oppression in the U.S.. And they invite everyone to join them. An excerpt from their must-read call to action reads:
We believe that everyone deserves a fair chance to succeed and thrive in this country, to participate fully in the life of their community, and we believe in removing all barriers to achieving those goals. So we invite you to join us on a journey to better understand the issue of race in America, to acknowledge the existence of systemic racism and the implicit biases that all of us carry—and to commit to what Rev. William Barber called on all of us to do: 'join hands and move forward together.'
I have chills — and not from a frozen bite of ice cream.
Ben & Jerry's CEO Jostein Solheim released an equally powerful statement in the brand's official announcement. He said,
We believe that when people come together, particularity in this time of racial, economic and political divisions, we can create a more just, equitable, and yes, even a little bit sweeter world.
Okay, who is ready for a scoop? Thanks to Ben & Jerry's commitment to both social justice and damn good ice cream, you can support a good cause while you eat dessert — a win-win! "One Sweet World" is available nationwide for just $4.89 per pint. Just remember: It's limited batch, so your chance to taste a truly sweet world won't always be around!