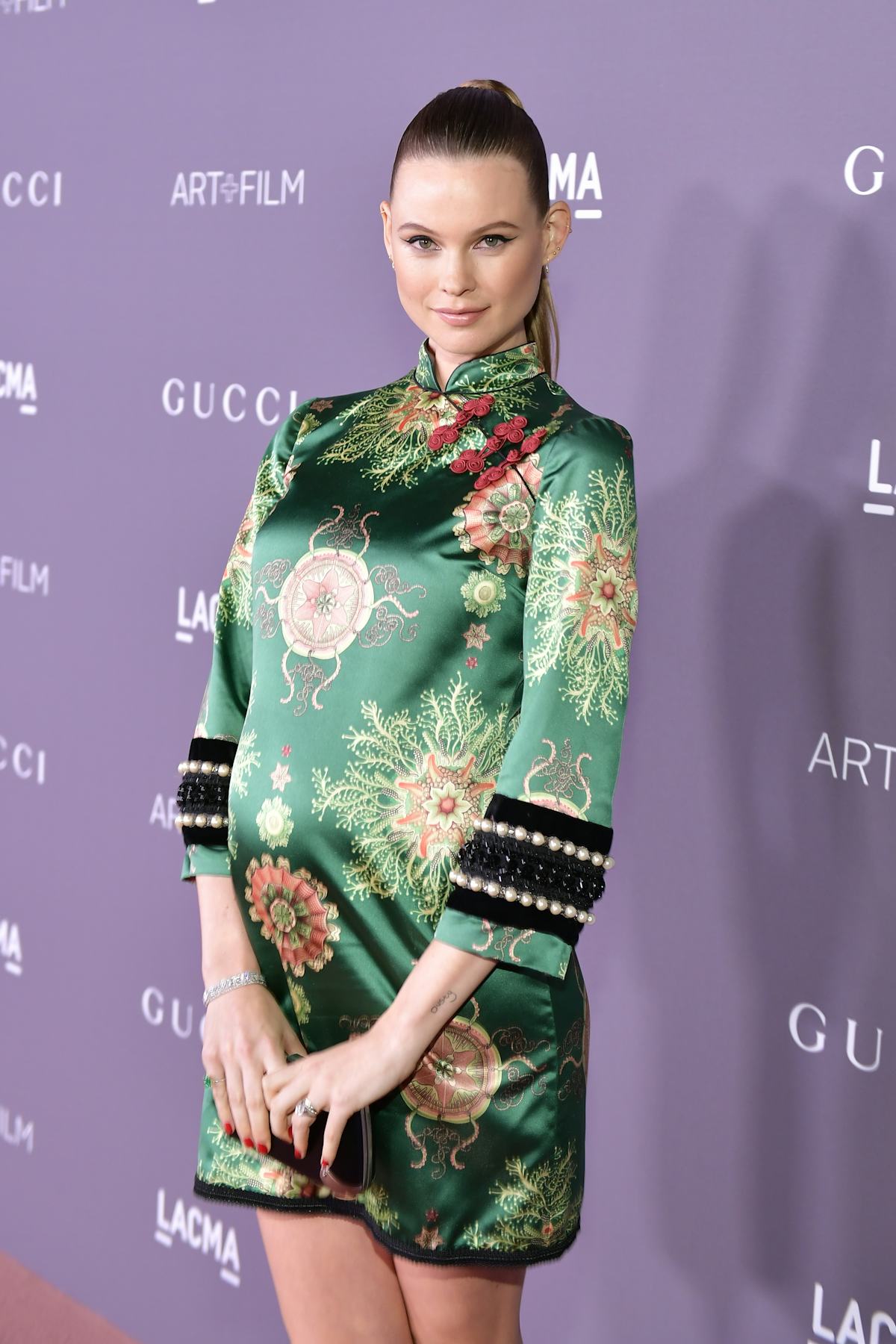 Behati Prinsloo Just Showed Off Her Baby Bump In The Cutest Way Possible
Neilson Barnard/Getty Images Entertainment/Getty Images
Adam Levine is one seriously lucky guy. His wife, Victoria's Secret model Behati Prinsloo, is pregnant with their second child and, spoiler alert: she looks absolutely gorgeous. It's no surprise that she's so stunning, considering the fact that her pregnancy with their first child, Dusty Rose, showed off an equally glowing Prinsloo (and honestly, how does someone looks so good after what can most likely only be described as months of morning sickness?). Some girls seriously have all the luck. So when I saw Behati Prinsloo's baby bump Instagram with its sweet message, it made me wish I was part of the Levine-Prinsloo family, because they are serious #goals.
Back in September, we found out that little Dusty Rose was getting promoted to big sister, and the world rejoiced. Considering that Adam Levine once said to Jay Leno that he'd never get married and now, here he is, with a wife, kid, and one on the way, let's just say that it's pretty damn clear that Behati has made a changed man out of him. Back in 2013, when Leno asked Levine if he remembered telling him that sentiment, Levine said,
Famous last words: 'I'll never get married.' You know, I still don't think you have to get married, unless you meet someone that makes you want to marry them. And then you marry them and it's wonderful.
BRB, sobbing.
Back in March 2016, Prinsloo shared the news of her first pregnancy in a really beautiful way, with an illustration of a woman with the world inside her pregnant belly:
And a few days later, Levine confirmed the news, showing off his wife with a barely-there baby bump:
Prinsloo documented her growing belly, sharing it with fans on social media:
Could she be any more flawless?
No, she cannot.
So when she announced on Instagram that she was expecting yet another child in September, fans were shook:
And her newest Instagram post debuts her baby belly... with a special guest appearance from Dusty Rose!
The photo shows a topless Prinsloo holding daughter Dusty, sticking her tongue out, with a curious Dusty touching her mama's mouth:
Her post told her fans to celebrate the new year in the best way possible: by showing kindness to our planet:
HAPPY NEW YEAR! Let's be kind to one another and our planet 🌍...2017 was cray. Can't wait to meet our newest addition in 2018.
And, of course, she adds how excited she is to meet her second child, because obviously.
It's clear that Adam Levine and Behati Prinsloo are so, so in love, and both Levine and Prinsloo have been very candid about their relationship. In an interview with People, Prinsloo shared just how powerful their marriage has become, especially with the addition of their daughter, Dusty. She said,
I love Adam, and when you get married and you fall in love with someone, you think that there's no greater love than that love. And then you have a baby, and it's just next-level love.
Can someone get me a tissue? I need a tissue.
And Levine is just as vocal about his love for Prinsloo, too. He shared a post of him and his beautiful wife, and, while the photo is actually pretty hilarious (a disheveled-yet-somehow-still-gorgeous Prinsloo sits next to a not-camera-ready Levine), the message he shared is actually incredibly beautiful. The caption read,
Every once in a while, the stars align... The mood is right, the lighting is flawless, and the expressions on our faces speak a thousand words without uttering a single syllable. I'm not saying it's the perfect photo. But I'll be damned if it ain't as close as anyone has even come. #truth
So if you want to know where I'll be, you can find me following Prinsloo's Insta, anxiously awaiting updated pics of her gorgeous baby bump.