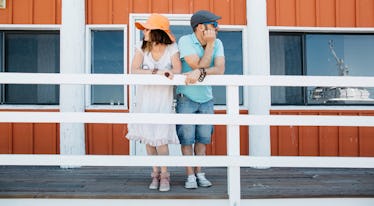 Ask Yourself These 4 Important Questions Before Telling Your Partner You're Upset
We've all been there — jaw tight, pacing around the room, drafting the most intense message to send your partner. Sound familiar? Unfortunately, getting upset with your boo at one point or another is basically unavoidable. But just like all of those adorable old couples say to us youngins, it's important to choose your battles. Before telling your partner you're upset, taking some time to analyze the situation, as well as your feelings, could avoid an unnecessary fight.
Trying to keep a lid on your emotions can sometimes feel impossible, and to a certain extent, you shouldn't necessarily have to. Talking through something that's upsetting you without it turning into an argument is one of the most valuable skills when it comes to conflict management.
Even when we don't want to admit it, sometimes, confronting a SO about certain things — depending on the specifics — might lead to drama that could have been avoided.
If something your partner did left you with some negative feelings, it may be a good idea to ask yourself these four questions before immediately pouncing on the topic. Once you've allowed yourself to cool down and examine the issue with clarity, maybe you'll find that you overreacted, or that it's not quite as big of a deal as you had initially thought.