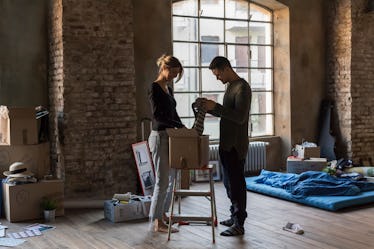 6 Things No One Tells You About Moving In With Your Partner That You Need To Know
If you've reached the point in your relationship where you find yourselves spending most of your time together — either at their place or yours — there's a pretty big chance you've thought about living together. Taking this next step in your relationship can be a super exciting time for you both, but there are definitely some things you should know before moving in together. After all, sharing a living space is going to allow you both to get to know each other on an even deeper level.
It's often all too easy to get caught up in all of the positive things about cohabiting (like shared rent and living costs, getting to spend more time together, building the perfect love nest, etc.) and forget about all of the other, not-so-great stuff. Taking the time to closely examine the pros and cons before you make your final decision will give you both the chance to discuss possible points of conflict before they happen. If you're expecting that each one of you will be responsible for cleaning up your own mess — or if the duties are going to be shared regardless — this is something to casually talk about prior to a joint move. Once you've got all of the technical convos out of the way, here are six things to expect if you decide to live together.