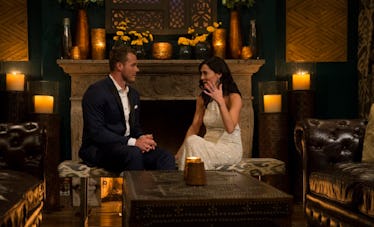 Becca's Instagram About Colton Being The Bachelor Comes Straight From The Heart
ABC
Welp, just when we thought we could finally leave behind any and all drama associated with Colton Underwood, we're in for a full season of him being the face of the Bachelor franchise. Although she found her happily ever after, Colton's Bachelorette Becca Kufrin has previously been vocal about who her top pick for Bachelor was, but Becca's reaction to Colton being the Bachelor is still completely heartfelt. But TBH, did we ever expect anything less from her?
After becoming engaged to Garrett Yrigoyen on the Season 14 Bachelorette finale, Becca wasn't shy about who she supported when it came to who the next Bachelor would be. To be fair, she always seemed to suggest that any of her last few men could rise to the occasion, but as recently as Aug. 28, she was still rooting for third-place finisher Jason Tartick, who both she and Garrett advocated for during their post-finale press tour. In late August, Becca told E! News:
I want all of those guys to find somebody like what I found in Garrett, but Jason will always have a soft spot in my heart... He'd go all in on every single date and make every girl feel comfortable.
In a rather unexpected twist, fourth place contestant and Bachelor in Paradise alum Colton was officially announced as the Season 23 Bachelor on Good Morning America on Sept. 4. He becomes the new lead after Bachelor Nation had narrowed down the casting decision to likely being between fan favorites Jason and Blake Horstmann, who was Becca's runner-up.
The news comes just as Colton's relationship with Tia ended on Paradise, and ABC has never previously selected a contestant to helm what would be their third consecutive season of the franchise (remember, we had some breaks from Nick Viall before he became the lead). The casting most resembling this Bachelor news would probably be Dean Unglert starring on Bachelor Winter Games immediately after appearing on Bachelorette and Paradise seasons.
Luckily, Colton hasn't caused as much upset among Bachelor fans as Dean did while wearing out his franchise welcome. When the Bachelor news broke, Becca stood out from past Bachelorettes by not releasing an official message of support on Twitter or Instagram. Instead, fans had to keep a close eye on Colton's Instagram if they wanted to track down Becca's congratulations. In a photo Colton posted of himself on the GMA set, Becca wrote in the comments, "Go do your thing and have the best time with the ladiez!"
Perhaps suggesting that her relationship with Colton is now that of a big sister, she even added, "Remember, listerine strips are your best friend."
Showing off the sense of humor we've already caught a glimpse of through his time on TV, Colton responded, "Do my thing...or the damn thing?"
But, really, let's retire "do the damn thing" while we still can.
Becca saving her well wishes for the comments is a little different from what former leading ladies usually do, but it seems to fit her perfectly. She's just excited to hit up Costco with Garrett nowadays, so it makes sense that she has nothing but a short and sweet message for the new Bachelor. Enjoy your time away from the spotlight, girl!
Season 23 of The Bachelor premieres in January 2019 on ABC.