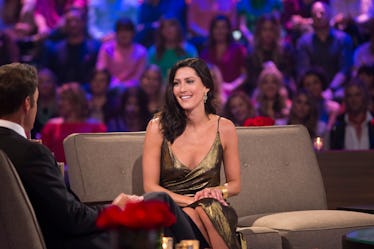 Becca's First 'Bachelorette' Promo Photo Is Here & OMG, She Is Everything
ABC
It's not true Bachelorette season until a trailer showing the new lead flaunting a rose officially premieres, but getting a first look at the season's promo photo is a close second in terms of anticipating the new season. Forget those lame photos of Arie Luyendyk offering us a rose — there's a new gal in town. Franchise host Chris Harrison has released new leading lady Becca's first Bachelorette promo photo, and it's just as fierce as I'd expect from the classy Minnesota publicist.
On Wednesday, Harrison took to Instagram and Twitter to share ABC's first picture promoting Becca Kufrin's upcoming season of The Bachelorette. Featuring a full-body image of Becca in a slim, sparkly gown and accompanied by some rose petals in the background, her catchphrase "let's do the damn thing" is splattered across the photo. Other than Andi Dorfman's "staaahp" vocal tic, when was the last time we had a Bachelorette with her own slogan?
Becca used the phrase in her Bachelor introduction to Arie, but it snuck its way into other moments throughout the season. You could even argue that, for the longest time, being the "damn thing" girl was Becca's claim to fame, but she obviously is far from a one-hit wonder now. Work it, Becca!
Becca has been filming Season 14 of The Bachelorette since mid-March, only a week after her first meeting with Arie since their post-show breakup and encounters with five of her contestants. While we can definitely expect Becca to make some morning talk show appearances in the days before her season premiere, she hasn't been active on social media since the airing of After the Final Rose. However, both Harrison and franchise creator Mike Fleiss released behind-the-scenes photo of Becca in her Night One dress, which (obviously) looks amazing.
As filming began, a source told Entertainment Tonight about the type of man Becca is looking for:
We saw her ex, Ross [Jirgl], on the show — that's more her physical type. She likes handsome, beefy guys, but ultimately she just wants someone who's real. She was humiliated over what Arie did. She put her heart out there and gave everything. He didn't take it seriously. For Becca, the relationship was real. You don't accept a proposal thinking you're not going to actually get married.
Her promising batch of men from After the Final Rose aren't the only contestants the public knows about. Us Weekly previously confirmed football player Clay Harbor as one of the men competing for Becca's heart, which potentially throws in an interesting twist that could lead to this year's "he's not here for the right reasons" scenario. Being a pro athlete as opposed to past years' former baseball players and personal trainers, Clay has a lot to risk professionally by being on the show. When he's thrown in the mix with other contestants, it'll definitely be interesting to see how things play out for him.
If the show's new ad wasn't enough of a hint, it's clear that Becca is ready to move on from the Arie drama and begin a new relationship. While appearing on The Ellen DeGeneres Show, Becca shared her views toward Arie pursuing runner-up Lauren Burnham after breaking up with Becca:
I feel good. I went through the entire grieving process — I was mad, I was sad, I was confused. But I watched the entire season back and saw his relationships unfolding with everyone else and seeing that kind of helped me move on to realize he just found a better fit with Lauren.
Girl, preach.
Season 14 of The Bachelorette premieres at 8 p.m. ET, Monday, May 28, on ABC. Regardless of how the men seem, I know I'll be tuning in for Becca's fashion choices.