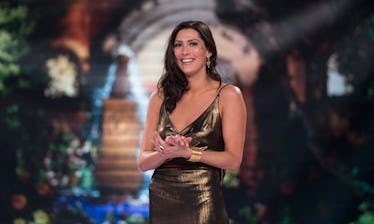 This NFL Player Will Be On Becca's Season Of 'The Bachelorette' & Wow, We're Into It
ABC
We still have several weeks to go until ABC releases a full cast list for Season 14 of The Bachelorette, but Bachelor Nation has an inkling of what men are competing for Becca Kufrin's heart beyond the five introduced on "After the Final Rose." Us Weekly confirmed that a NFL player is among the new crop of Bachelorette men, and the fact that this news leaked so early in the show's process may mean that we have a potential frontrunner in store. So, who is Clay Harbor?
The 30-year-old has played as a New Orleans Saints tight end since May 2017, following previous stints with the Philadelphia Eagles, Jacksonville Jaguars, New England Patriots, and Detroit Lions. So, in other words, he likes to travel, Becca! While Clay has been a bit of a team hopper, he shares Becca's Midwestern roots. Born and raised in Illinois, he's currently on the Saints' injured reserve list, which may explain the decision to leave sports fame and find 15 minutes of TV notoriety.
According to a source, Clay applied for the show on his own terms rather than reacting to an offer from the Bachelorette casting team. The majority of athletes that find their way onto the show usually have "former" listed in front of their sports profession (Season 10 Bachelorette winner and onetime baseball player Josh Murray is an example). Clay being an semi-active football player is definitely a rare occurrence within the franchise. As someone who would only recognize the name of Tom Brady in a list of football players, I wonder if the majority of men in the Bachelorette house would realize who Clay is right away.
Although he is arguably a public figure, Clay's Instagram account is now private, suggesting that early reports of his Bachelorette involvement drove him to this decision. Of course, depending on how his time on the show goes, his privacy settings may not last long. Imagine the sports equipment companies dying for Instagram partnerships with Bachelorette guys with some kind of male following!
Similarly, Clay infrequently used his Twitter account before the week of the Bachelor finale came around. Previously going months between tweets, Clay has now posted twice since March 1. His most recent tweet on March 8 (coincidentally International Women's Day) included a photo of himself with both of his grandmothers. Was this a subtle outreach to savvy, spoiler-friendly Bachelorette fans? I mean, everybody loves an adorable grandma.
With Bachelorette filming set to begin this week, spoiler guru Reality Steve first reported Clay being cast on the show. On the night of "After the Final Rose," Steve shared screenshots of Clay's Snapchat story, which showed the football player watching Becca on her date with Arie in Part 1 of the finale. Looks like it was love at first sight for Clay!
Whether or not Clay's casting was intentional, his role on the show gives Becca's season a unique edge that The Bachelorette often does not have. Shortly after she was announced as the new lead, Chris Harrison spoke in an interview with E! News about what fans could expect from Becca's season:
The beautiful thing is you don't know. No way in a million years could you have ever foreseen Arie and his season going like this. That's kind of the beauty of the show is when we start anew with Becca, something will happen — some things will happen — that never happened before. That's just the nature of this beast and the nature of this business.
"Some things will happen that never happened before." AKA the guys may flip over a NFL player being their competition and we could hear plenty of choruses insisting that Clay isn't there "for the right reasons."
Following Clay on the show is definitely going to be interesting. We'll have to wait and see what happens when The Bachelorette premieres on Monday, May 28, at 8 p.m. ET on ABC.