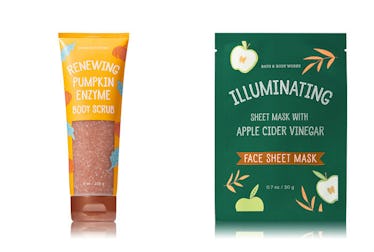 Bath & Body Works Is Having A Huge Sale On Fall Products, So Go Ahead & Get Your Hygge On
Bath & Body Works
Do you love sitting by crackling fire and sipping on a frothy PSL? How about cozying up in your favorite soft flannel and indulging in a piece of warm pecan pie? In other words, do you live that hygge life? If so, then Bath & Body Works' sale, specifically the one relating to its just-dropped fall product line, is going to make you incredibly happy. As if new lotions, bath gels, fragrances, soaps, mists and more in your favorite autumnal scents wasn't good enough news on its own, said products are all currently part of an array of deals that ultimately mean excellent freebies. Bring on the crisp air, fiery foliage, and chunky sweaters — fall is here, and I am not mad about it!
For a limited time, you'll be able to score deals like BTGO (buy two, get one free), BTGT (buy three, get two three), and more on a range of fall products, all of which smell like something out of an autumnal dream world. (Head to Bath & Body Works' website to see which fall products can be shopped within the parameters of each deal.) From its Sweater Weather scent, which was inspired by golden autumn leaves, bright blue skies, and crisp apple slices; to its Sweet Cinnamon Pumpkin scent, which features notes of heirloom pumpkin, autumn cinnamon, ginger snap, and whipped vanilla, there'll be something that will make your body (and nose!) very, very happy.
Here are a few of my favorite picks from the sale (prices do not reflect the deals they may be eligible for):
Sweet & Spicy
I'm among the minority of people who prefer to wear their PSL rather than drink it, so this decadent body lotion is my perfect fall moisturizer. It's formulated with shea butter and coconut oil — meaning flakey winter skin is no match — and its lightweight formula won't leave you feeling like you smeared actual pumpkin pie all over your body. Win!
Oh, Sheet!
When it comes to beauty ingredients, apple cider vinegar is somewhat of a wunderkind. It can help clear up acne, heal a sunburn, whiten teeth, and remove dandruff, and if you have a strong enough palate to drink it, it'll help regulate your digestive system. The stuff is magic! It's no wonder B&B channeled ACV's mega properties into a sheet mask that will leave your skin radiant and glowy.
Farm Fresh
It sanitizes, it conditions, and it smells crisp AF while doing it. What's not to love?!
She's Got Grit
The more pumpkin, the better! This body scrub is formulated with pumpkin enzyme and pumice, which together will smooth your skin's surface and leave it with a radiant glow.
Flame On
One of my favorite smells in the entire world is burning firewood — I think it reminds me of camping with my family growing up. The ultra-rich shea body cream was inspired by toasted marshmallows, crackling campfires, and cozy flannels (um, yes, yes, and yes) and was also formulated with aloe and coconut oil for super hydrating properties. A cozy dream.